All Hail Caesar!
In MY (picky) opinion, there are three PERFECT Caesar Salads to be found in Tulsa, with the perfect marriage of garlic and lemon, plenty of tang from the proper use of mustard & Worcestershire, and no added "stuff" that would make it, in my book not a "real" Caesar (cream, tomatoes bacon etc…).
One such salad can be found at my house. Why is the one at my house one of my favorites? Well, usually one thinks their own version is perfect because they have tailored it to their own personal taste. Not so much in this case. I think it is perfect because it tastes "just like Mother's". This brings us to number two. Growing up, the most popularly eaten salad in my house was the Caesar. Again, it was perfect. There was only ever ONE Caesar Salad that could match it. And that brings us to number three, well…number one actually. The reason that Mother's salad was (and remains) so amazing, is that HER recipe came from what I still maintain is THE Caesar Salad in Tulsa. It's easy to miss as you drive down Yale past 31st, and many people not native to Tulsa don't even know it exists, but to those of us who have enjoyed this inconspicuous gem for years still LOVE it. The Celebrity Restaurant (or more often still known to longtime Tulsans as the "Celebrity Club", as it began in the 1960's as a private dining club due to local liquor laws) still remains a family run business, almost a half-century after opening. Personally, I think that a visit to this classic Tulsa restaurant isn't complete without enjoying their "table side" Caesar. Made from scratch in a big wooden bowl on a cart that is wheeled up next to your table, and often prepared by Nick Samara, whose father Mike opened the restaurant in 1963.
Mike Samara, after opening the restaurant as a private club was actually a contributor in the effort to legalize liquor by the drink in Oklahoma, and as a result obtained the first liquor license. He opened the doors to the public, and to this day (even well into his eighties) can be found donning his sport coat and personally greeting his guests each night at the restaurant. He says that his famous Caesar recipe was given to him by a Maître d' in Oklahoma City who had worked at "The Pump Room" in Chicago.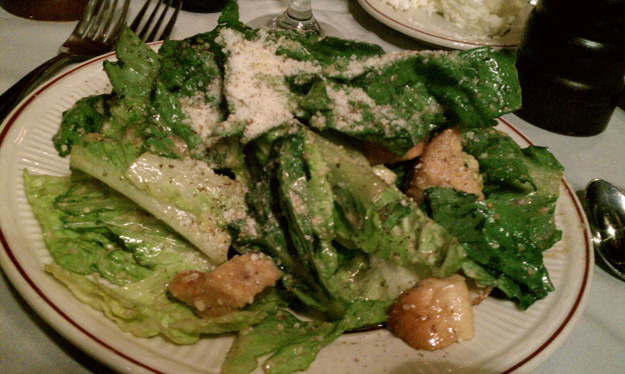 Aside from the can't-be-missed table side Caesar, Celebrity also offers what my sister-in-law considers to be Tulsa's best kept secret in fried chicken, along with options of steak, chicken, fish and cold water Lobster tail. Although many times the salad alone is enough food for me, on my last visit I also had the grilled ribeye special, which was delish (and I hear is headed for a permanent spot on the menu). Just when I thought I didn't have room for ANYTHING else, Nick surprised us with a dessert cocktail made from brandy, ice cream and nutmeg. I happily found room.
Caesar at Home
Although I highly recommend heading down to The Celebrity for a Caesar, as my family has done for years, here is my version that you can make at home. Historically speaking (and Caesar's history is less than exact, though most people believe the salad was invented by Caesar Cardini back in 1924, decades before it gained popularity) the salad did not originally contain anchovies, but the slight flavor of anchovy was brought to the salad by the Worcestershire sauce. I usually add a bit of anchovy, as that is the way Mother always used to make it. I always make sure that the mustard I use (also not thought to be an ingredient in the "original" Caesar) is Coleman's dry English Mustard. Also, unlike most traditionalists who insist on Lea & Perrins for their Worcestershire (which is great) I do deviate and use my personal fav, the "What's This Here Sauce?" from Timothy Sean Fitzgerald. It's made with Guinness, and well…we all know how I feel about Guinness.
Chef Amanda's version of Mother's version of The Celebrity Club Caesar:
3 Egg Yolks (I use raw eggs, but if you are not as comfortable with your egg source you can either buy Pasteurized eggs or pre cook the egg for 60-90 seconds)
2 Hearts of Romaine Lettuce, washed, dried, and torn
5 Cloves Fresh Garlic, Minced
1 Anchovy filet, chopped or 1 tsp Anchovy Paste
1 ? tsp Worcestershire Sauce
1 tsp Coleman's Dry English Mustard
1 Tbsp Champagne Vinegar
1 tsp Kosher or Sea Salt
1 tsp Fresh Cracked Pepper
1/3 Cup Olive Oil
1 oz Grated Asiago or Parmigiano Reggiano cheese
Shaved Asiago or Parmigiano Reggiano cheese for garnish
1 Cup croutons (I make mine with French bread brushed with minced garlic & olive oil & sprinkled with a bit of Asiago before toasting in the oven)
In a bowl, combine the garlic, salt, pepper, anchovy, and mustard. Add the egg, lemon juice, vinegar, and Worcestershire and whisk together until well blended. Slowly drizzle in the oil in a thin stream, whisking constantly to ensure proper emulsification. Adjust seasoning to taste. Whisk in grated cheese just enough to combine. Toss gently with lettuce. Top with croutons and shaved cheese. Serves 4-6
To find my fav Worcestershire (What's this here?" sauce, you can find Chef Tim at the Cherry Street Farmer's Market, or at his kitchen at 18th & Boston.
The Celebrity Restaurant
3109 South Yale Avenue Tulsa, OK 74135-8007
(918) 743-1800
www.celebritytulsa.com
Chef Amanda Jane Simcoe: thecheesewench.blogspot.com:
Amanda Simcoe is a chef and food connoisseur. She absolutely loves good food and appreciates the art of cooking and trying new things. Also known as "The Cheese Wench," she knows most everything there is to know about cheese. She loves using fresh ingredients and has a huge garden where she grows much of her own produce. Amanda also enjoys making beer at home and cooking elaborate meals.