February 15th, 2013 by Brian Schwartz – Comments (3)
I used to say that Mi Tierra was one of the best "ethnic" restaurants around. But lately they've stepped up their game, and I've been telling everyone who'll listen that they are now one of the best restaurants around. I remember when, back in the '90s, superchef Douglas Rodriguez arrived in New York from Miami and opened the first high-end restaurant to feature top-level cuisine inspired by Latin America. You'd taste one of his dishes and it would be as if you'd been watching black-and-white TV all your life and suddenly switched to color. You didn't know food could be as exciting as that. ("He brought a highly distinctive brand of Latin to Manhattan," said the New York Times in April, 2000, "a sexy, seductive reinterpretation of South and Central American cuisines that managed to be sophisticated, exotic and fun all at once.") Some of the dishes on Mi Tierra's new menu bring back this excitement.

Some of these dishes are worthy of the best charity events, and indeed Mi Tierra has started a catering business. More about that later.  Not that they've given up the "ethnic" side. Mi Tierra still has some of the best Peruvian food I've ever encountered, indeed better than anything I've sampled in New York, which has a lot of Peruvian restaurants, though none so good. Unlike most people in Peru, the affable owner, Kelly Tandazo, has a passionate interest in traditional recipes from every region of Peru. Most of the rich Peruvian elite sticks to the coast, to the sophistication of Lima, and ignores the rest. But Kelly has lived in many regions, including the remote jungle hinterland hard by the Amazon. So you'll find 1000 year old Inca recipes from the Andes, 200 year old recipes invented by French chefs fleeing the revolution and its guillotine, and even Amazon jungle dishes alongside the coastal recipes.
If you don't know about Peruvian cuisine, you're missing South America's biggest treat. Let me quote the New York Times again, this time from May 1999. "Peru has one of the great cuisines of the world. It is the original fusion food, having absorbed influences from almost every continent over the last 500 years and melded them with ingredients and dishes that provide a direct link to the Incas. While it is best known for ceviche, the marinated raw seafood dish, Peru's food is remarkable for the diversity of its ingredients, from wonderful fresh fish to astounding varieties of potatoes, corn and chilies, and for preparations that encompass the world, from stir-fried beef to pasta with shrimp. 'Peruvian is the single most important cuisine in Latin America, with a repertoire of dishes maybe bigger than France,' said Douglas Rodriguez."
There's Douglas Rodriguez again, and since he made his name with ceviche ("The simple medium of raw fish allows Mr. Rodriguez to play subtle variations, working with different chilies and fruit juices.", said the Times.) I'll start with the new Mi Tierra ceviche dish that first made me realize that Kelly had taken the game to the next level. I put the photo above, I couldn't resist. It's the Ceviche Trilogy ($13). An incredibly fine fish ceviche is mixed with "Tiger's Milk". No real tigers here, that's the name of the citrus-based liquid in which it was marinated. A handful of peanuts and onions adds crunch. In each of the three glasses there's different spicing and a different kind of Peruvian hot pepper (Rocoto, yellow and Limo), giving each glass a bright and different color.  And if you wish, Kelly will put in a big splash of Pisco brandy from Peru. That's what she did when she brought me one of the trio before I began my recent meal.
Wow! One sip and it was a wake-up call. A fresh bright bracing flavor, full of subtle (and not-so-subtle) notes and the world came alive. I got as much out as I could with a spoon and drank the rest. Meanwhile, Cathe got this, which also wowed me by its presentation.
This is the Explosion de Causa ($10). Hand-mashed potatoes are seasoned with lime and Peruvian pepper, and are layered with various cold concoctions. Causa Limena is a traditional Peruvian dish, going back hundreds of years to the first century of the Spanish occupation (and might have Inca roots going even farther back). I just love the presentation! And of course it was delicious. Oh and in case you haven't been to Mi Tierra in the three years since I wrote my last big reviews, be aware that their new dining room is worthy of such sophisticated fare.
This explosion is just one of the new items on the new menu. Lots of new appetizers, such as Hallaca, a Venezuelan meal in a leaf, a huge and deliciously flavored tamale wrapped in plantain ($6), and Anticucho, a traditional Peruvian goodie made of grilled cow's hearts (fish is available for the timid), and lots of pupusas, tamales, arepas and empanadas.  As for entrees, two delicious dishes previously available only as specials, and only very rarely, now make full-time appearances. One is Carapulcra. They were eating carapulcra in Peru before the Incas came. It's a flavorful stew made of peanuts and dried potatoes. The Spanish conquistadors tried it around 1540, loved it, and added pork, and that's the way they serve it today at Mi Tierra.
I took this photo almost 2 years ago when I last reviewed Mi Tierra; I ate Carapulcra as a special. But the new menu goes one better by adding a meaty pork rib on top!  Another new item is Pescado a lo Macho. "Our Pescado a lo Macho was featured in Tulsa's Ten Best Dishes of 2012 published by tulsafood.com" says the menu and indeed it was.
Though it looks (and tastes) vaguely Italian, this is a traditional Peruvian dish that features a lightly fried sea bass filet cooked in a tomato based wine sauce and topped with shrimp and other seafood.
Now that was tempting, but instead I ordered Lechon. This is a famous Latin dish, and people travel for miles in New York to find places that serve it. The best I ever found was an illegal outlaw setup using oil drums in an abandoned South Bronx garage… but that's another story. What it is…. they roast a whole suckling pig! (Kelly warned me that she can't always find a whole pig, so it's not always available, though they will give you roast pork instead.)
Now just about every time you get Lechon in New York, it's a disappointment. Dry and tasteless. Not so here! The pork is rich, juicy and packs a big flavor punch, worthy of its fame. The rice and warm salad are delicious too.
We barely saved room for dessert, but somehow we ate at all. Here's what we got, a dessert trio.
I've saved the best for last. Kelly has started a catering business, and if you're organizing a big charity ball, consider the novelty and fun of serving dishes like these.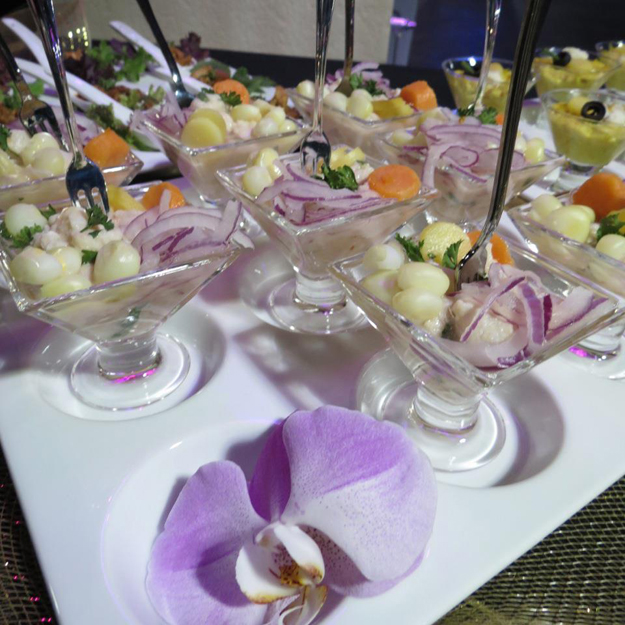 Restaurant Mi Tierra
6703 E 81 St Tulsa (just east of Sheridan)
(918) 477-7155
Open from 8 AM to 8 PM , Sundays 10 to 6
Read my previous big reviews of Mi Tierra!
http://tulsafood.com/south-tulsa/restaurant-mi-tierra-peruvian-cuisine
http://tulsafood.com/south-tulsa/return-to-mi-tierra
Brian Schwartz: Author

Born in NYC, age 0, on my birthday. College in Oxford at age 16. Law School in New Haven, Conn. 6 years travel in Africa and Asia. Haven't done much lately. Still, I'm the only Tulsa member of the little-known Omega Society.  www.theomegasociety.com
I speak enough Chinese to order food not on any English menu. Spanish French Italian too (not fluently but food-ently) My favorite restaurant is Jean-Georges in New York. But those NYC chefs would sell their soul to get the produce available from the farms around Inola.
"A writer writes alone. His words tumble forth from a magical inner void that is mysterious even to himself, and that no one else can enter." And yet, the most important thing to me the writer is YOU. Without you to hear them, my words are worth less than silence.
Tags: South Tulsa