Thanksgiving Menu Ideas from Around the World #1
In honor of Thanksgiving week here, in the US, I "took a gander" through our old menu's and picked out a few recipes that I would enjoy on our Thanksgiving table. Here's my selections from the "A" countries… tomorrow I'll share some from the "B" countries. Have a great day!
Note: Be sure to read the associated Monday Meal Reviews for tips and tricks.
(Algeria)
Hot Algerian Lasagna (Shakhshukha al-Bisakra) [Recipe]
This lasagna contains ground lamb meat, diced potatoes, chickpeas, and harisa. Two teaspoons of cayenne make this dish fire-hot. Gruyère cheese cools things down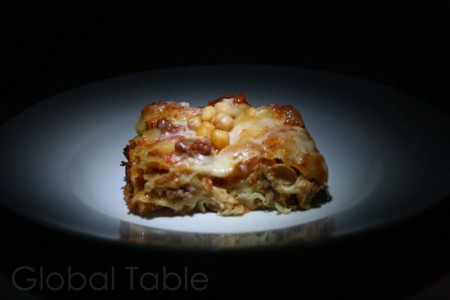 (Andorra)
Warm Spinach & Mushroom Salad [recipe]
Warm spinach tossed with sauteed wild mushrooms, garlic,
raisins, and slivered almonds.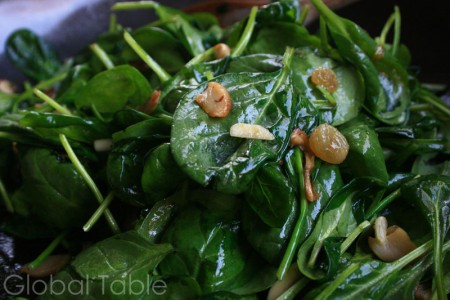 (Argentina)
Roasted Pumpkin Salad with Arugula and Chevre [Recipe]
The cavity of a steaming, roasted pumpkin is filled with goat cheese, arugula and mint vinaigrette. Any pumpkin variety is acceptable, depending on seasonal availability.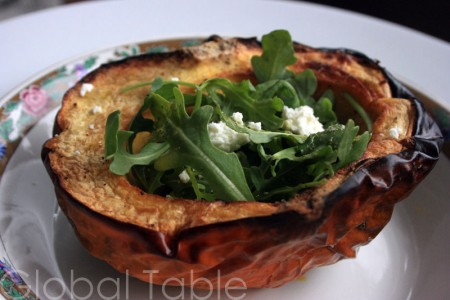 Pastel de Papa con Elote (Potato and Corn Pie) [Recipe]
Mashed potatoes topped with pureed corn and baked.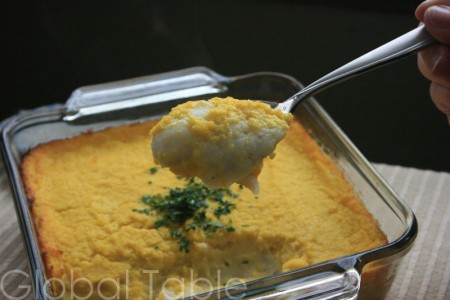 (Armenia)
Itch (Bulgur Pilaf Salad) [Recipe]
Bulgur with bell pepper, onion, scallions, fresh parsley, and lemon juice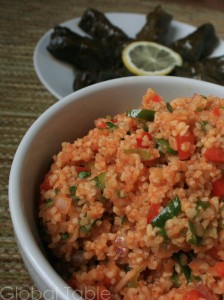 (Austria)
Sauteed Green Beans with Speck [Recipe]
Simple, yet delicious. Speck is dry cured smoked prosciutto and is used in many Austrian dishes.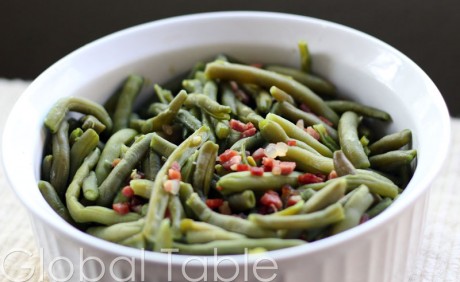 Baked Austrian Kas Nocken w/ caramelized onion & Gruyère cheese [Recipe]
Nocken is Austrian's version of Spaetzel. This homemade egg pasta is grated and dropped into boiling water. I'm told the secret is to make the Nocken thin. Kas means cheese.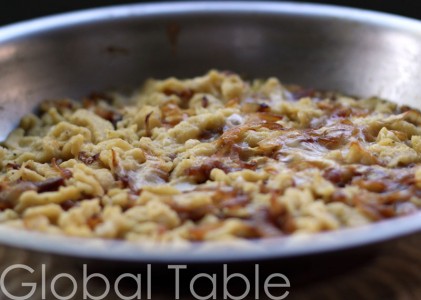 (Azerbaijan)
Spicy Meatballs in Pomegranate Sauce (Fesinjan Kyufta) [Recipe]
Ground lamb and beef is mixed with onion, paprika, breadcrumbs, and mint.
The meatballs are served in tangy pomegranate sauce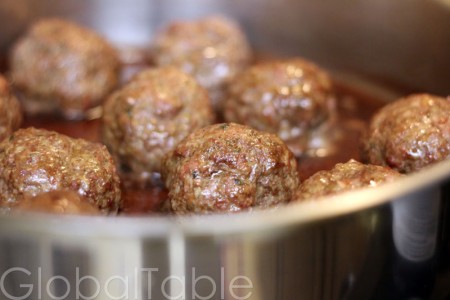 Sasha Martin - GlobalTableAdventure.com
Do you love International Cuisine? So does Sasha Martin. After all, she lived in Europe for six years and traveled to 11 countries before her 18th birthday. Then, while earning her B.A. at Wesleyan University (Middletown, CT), she wrote an honors thesis entitled "The History of Artisan Bread Baking in France." After college, Sasha attended the Culinary Institue of America for a year (Hyde Park, NY). In 2005, her CIA internship brought her to Bama Pie's R&D kitchens, right here in Tulsa, Oklahoma.
Not long after she got here, Sasha met the love of her life and decided to stick around. There was just one problem: she missed the foreign foods she grew up with. A lightbult went off when she realized "Hey, I can make international foods right here in Tulsa!" and that's just exactly what she's doing.
Today Sasha is on a mission to cook one meal for every country in the world. That's 195 meals! And, guess what? She's doing it in 195 weeks. You can can follow her journey at the Global Table or by checking out her weekly update on Wednesday's here at  TulsaFood.com