I Ate The Burger from Hell at Coyote Bluff in Amarillo, TX
Traveling is fun. Regardless of the size of city you travel to, you can always rely on tools such as local food bloggers, urbanspoon or yelp and even national tv networks to point you in the direction of mind-blowing food at unique joints.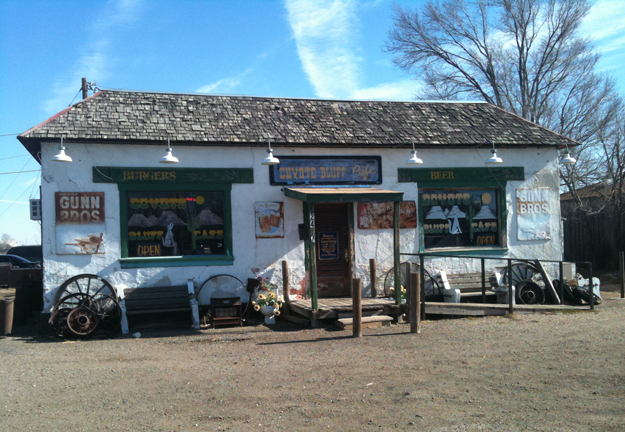 A few days back while passing through Amarillo, we hit up Coyote Bluff Cafe. I could not resist the "Burger from Hell". This famous burger was featured on the Travel Channel's Man V. Food and has great reviews online. Tabasco, habenaria sauce, fresh sauteed jalapenos, lettuce, tomato, and grilled onion are just a few of the elements that make this one amazing. I ordered mine medium rare which is a must when ordering a burger with fresh ground beef.
The burger was cooked almost perfect, mine could have been a little more rare.  Nonetheless, it was a perfect burger experience. Those of you that are worried this burger will be too spicy, I'd say don't. I got a slight consistent heat in my mouth but nothing too serious. One of the unique features of this burger is the melted cheese. If you watch the video below you will see that they add the cheese and then place a metal bowl over the burger. Mouthwatering….
Here is the Coyote Bluff Menu in a nut shell
So next time you hit the road, jump outside the box and bust out your smart phone or research before-hand and find out what makes that city's heart beat within the food scene.
Coyote Bluff Cafe
2417 S Grand St, Amarillo, TX 79103
Open Tue-Sat 11am-2:30pm, 5pm-10pm
http://coyotebluffcafe.com/
(806) 373-4640
As a little bonus here is the video from Man V. Food
http://www.youtube.com/watch?v=A5wudby5hfg