September 27th, 2012 by Jeremiah Ramey – Comments (6)
It's Oktoberfest in Munich now. The worlds largest fair. Beer poured by the barrels, millions of sausages, and tons of pretzels are consumed each year at this grand fest. German beer is the real deal. Barley, hops, water, and yeast. All you need to produce wonderful beer. German cuisine is the real deal too. It's straight forward and doesn't leave you any surprises. There's no bull. No fluff. It's meat and potatoes, bread and beer. Dare I say "man food". And that's exactly what you get when you go to Margarets German Restaurant at The Farm shopping Center.
Visiting Margarets is like visiting your parents or grandparents after a long leave. Soon as you hit the door, there's Margaret saying "Hello! Hello! Welcome!" It never fails. That warm cozy blanket of feelings hit's you like you drove all day and night just to make it there and when you finally cross that warm threshold the weariness melts away with the smell of food wafting all around you. It's so comforting. And amazing as well. Margaret and her husband came to Tulsa from Germany in 1982, started this homey restaurant in 1989, and have been going strong ever since. Margaret is a straight forward kinda gal with a straight forward kinda menu. She serves up some of the best German dishes around. And the menu boasts a great array of German beers and wines as well.
Since I can't be in Munich, I might as well eat and drink like I am. Right? On the dinner menu all entrees come with soup of the day, your choice of red cabbage or sauerkraut, and warm potato salad, spaetzle, or fried potatoes. I started off with a Spaten "Oktoberfest" and the lady had the Liebfraumilch wine. The wine had a simple fruit character with a great medium and buttery body with a hint of sweetness in the finish. The Oktoberfest beer is a prime example of how Oktoberfest style of beers should be. Roasty, bready, and caramely with a low carbonation for a smooth medium mouthful. Perfect for my upcoming sausages!
Keeping the Oktoberfest theme, I chose the "Oktoberfest Delight" ($12.99) which has the choice of any two sausages (Knackwurst, Polish, Smoked Bratwurst, Fine Bratwurst, Weisswurst or Coarse Bratwurst). Knackwurst and smoked bratwurst for me, please! With the spaetzle and kraut. My better half is a meat-and-potatoes kinda girl. So this menu for her was like striking gold. When she ordered the "Kloster Schnitzel" ($16.99), which is breaded pork loin stuffed with ham and cheese, the red cabbage and warm potato salad, she didn't want to let go of the menu.
Soup of the day was a goulash soup. Veggies, beans, chunks of sausages, in a thick, creamy, brown broth with buttered light-rye bread on the side. A great starter!
My sausages were plump and juicy and scrumptious. The spaetzle was firm and had a great crunchy texture and the kraut was fresh. Hit's the spot.
The kloster was juicy, the breading was excellent, and that ham and cheese stuffing was over-the-top goodness. The red cabbage was kinda plain, but it was good. That warm potato salad was to die for though.
Fresh made apple strudel anyone? Flaky, warm, creamy with bits of apples, raisins, cinnamon, etc. I need more to take home. So good.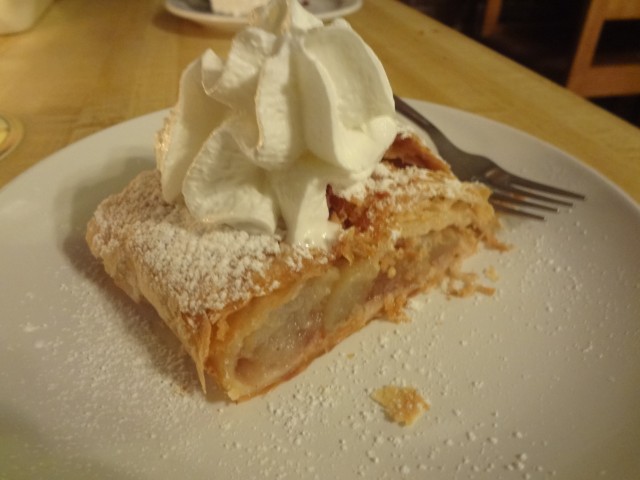 To top off this excellent evening, we even had our own band playing a table over.
Overall, I can't begin to say just how happy this meal made us. Many food lovers know of this place and will agree. I encourage people, especially in this "season" of Oktoberfest, to enjoy some excellent German cuisine at Margarets.The experience is rich. Management and service is never lacking here. The feeling of home is never lacking here either. I'm just surprised Margaret doesn't go so far as to give us recliners and a cigar by the fireplace after we're done eating too.
Food: 4.5 of 5
Beer: 5 of 5
Margaret's German Restaurant
5107 S Sheridan
Tulsa, OK 74135
http://www.margaretsgermanrestaurant.com/
Jeremiah Ramey: Author – www.aleskitchen.com
I'm a home cook with a little professional dabbling experience. A lover of craft beer! And if you don't know about craft beer, then you will. Effervescent, vivacious, flavorful, and extremely wonderful. Happiness in a bottle….or can. Craft beer is an amazingly diverse and complex drink. Around one hundred different styles of beer in the world and thousands of breweries. A booming industry right now in America! And still, craft beer is deserving of MUCH greater culinary respect than it has been receiving.
I believe there is a beer for everyone and a beer for every delectable dish out there. I believe it stands up to wine just as well and even better in the culinary world. Cooking, pairing, drinking, and education. I hope to bring some useful knowledge into the foodie world concerning great beer with great food. Not everything is about beer, but it sure does make it better. Cheers!
Tags: german