Don't Miss the Adventure at Sasha Martin's Global Table
If you haven't read Sasha Martin's Global Table blog, you've really missed something.
A menu from a different country every week, all the world's countries, in alphabetical order. Sasha Martin attended the Culinary Institute of America, so each of the carefully selected recipes is not only authentic but a credit to any table. Lavishly illustrated with ravishing photos, there are step by step recipes for each dish. You learn something about food, something about each country and something about life. Since this is a four year project, you watch Sasha's baby slowly grow into a charming and scene-stealing little girl, her husband change from the world's pickiest eater to someone who'll try anything (well, almost), and life's little speedbumps of sickness, depression and such triumphantly overcome. In her tiny kitchen, Sasha cooks up the world.
If that sounds like a blurb, it is. Convinced that she deserves far more recognition than she's been getting, I wrote the above and sent it to cooking magazines. No result. And then out of the blue a few months ago, Sasha got a book deal far better than any I'd ever dreamed of. More on that later. But catch her now before she's famous.
I was in at the very beginning. It was February 2010. My mom was still alive then and her nurses cooked dinner each evening. I persuaded them to try Sasha's very first recipe, Kabuli Pilao. One bite and I was back in Afghanistan. "This brings back memories," I wrote in the comments section. "The highlight of life in a smaller Afghan town is (or was) the chaikhana, or teahouse (the word means tea-eat) where a coin buys a cup of tea from a big bubbling samovar and endless conversation. Handmade Persian carpets on the dirt floor, sometimes it's open-air with the sky above. You lounge on the carpets and sip your tea, and maybe you get food too, and usually it's Qabili palau." Ava was a 6 month old baby. "Ava tried a small piece of the chicken," Sasha reported. "We were rewarded with a big smile. She actually used her gums to chew the chicken and she happily pushed the new flavors around in her mouth. Then she got to lick the insides of an apricot which, by her blank expression, she found to be 'just okay.'" We found the Pilao a lot better than just okay. Redolent of exotic spices, it was so tasty we finished every bite.
A few weeks later, we made Hot Algerian Lasagna. This was a layered lamb, potato and noodle casserole spiced with harissa. "Well we just ate it and it was WONDERFUL!!" I wrote after the meal. "All the flavors blended together and, though if I thought about the filling I'd say yes, that's North African, when I ate it I realized it was the perfect lasagna. I must confess I didn't cook it, it was my friend Cathe, one of my mom's nurses, and she spent days hunting up all the ingredients and all day today making it. But it was worth it! It is really difficult to design a lasagna recipe that works, and that's especially true of no-boil lasagna sheets, so your CIA training paid off. Thank you!" I did learn one lesson though. I tried to cut down on cooking time, so we skipped the step which pre-cooked the potatoes. I thought they'd bake in the casserole. The result: half-cooked potatoes. The lesson: never tamper with the expert's recipes.
A few months later, my mom died and our nightly cook-outs ended. I continued to follow the blog but instead of cooking the recipes, I concentrated on learning the history and culture of each country. I'd visited many of them. It was like a world tour. When we got to Mali (to take just one example), Sasha described a lazy sail down the Niger River: "Mali is a dusty daydream away, down a lazy river, where dotted villages slip by, one by one, until forever." I added a comment on history: "Dusty, remote and seemingly at the end of the world today, Mali was once one of the pinnacles of world civilization. You've probably heard of the three great empires of West African history, Ghana, Mali and Songhai. All of them were in Mali!! (Modern Ghana just stole the name.) Around 1300, the king of Mali, who, though full-blooded African, not Arab, made a pilgrimage to Mecca and blew all the Arabs he met in Mecca away with his wealth and erudition. Not that Mali was unknown to Europe. Books written in Spain around 1100 described its wealth and culture.
"All this came to a crashing halt. Sometime just before the year 1600, a messenger arrived in the city of
Timbuctu. With a population of about a million, Timbuctu was the capital of the great Songhai Empire. The chronicler Leo Africanus found the city 'exceeding rich', and saw many 'doctors, judges, priests and other learned men that are bountifully maintained at the king's cost and charges' The courier bore a message for the ruler from the king of Morocco, who demanded tribute. The Emperor, who had barely heard of
Morocco, and knew it was far away across impassable desert, laughingly refused.
"In 1591, the Moroccan ruler sent an army of European mercenaries across the Sahara. Most died in the desert, but those that reached Timbuctu had guns. They conquered the city and destroyed it, and thus
ended the last great empire of the southern Sahara.
"The river was too low for cargo boats when I went so I made the three day trip on a big wood canoe with a motor." And let me stress that yes, I've quoted mostly my writing… but read the blog and you'll see that it's Sasha's writing that really shines. She paints lovely word portraits of each exotic country plus cute poignant vignettes of her family. I've watched Ava grow up.
I'd met Sasha briefly and we'd corresponded quite a bit but never saw each other. Each week she'd cook up a lavish and exotic meal not that far from where I live. I yearned to join her. Meanwhile, seven thousand miles away, a new country was born. The Republic of South Sudan.
There's a tiny piece of Central Africa, kind of toward the northeast corner, and when you enter it the ground drops off and normal rules just don't apply. Time slows down and sometimes just stands still. That trip that would take two hours on a superhighway might take two weeks or even two months if the rains come down. Before the wars started this was the happiest place on earth. There are nomads there, and their life is cattle and every spring when the plains by the river become a green and landlocked Eden, the young men and women drive their herds onto those plains that look like the first day of creation and there they stay and the men sing love songs to the girls or even to the cattle by the light of an impossibly bright moon or even from the blazing stars that hover just overhead. Sometimes raiders come from another tribe and when I first heard this I thought it sounded chivalrous and noble but an old old man of the Karamojong told me it was nothing like that. You fight, you fight, and maybe they kill you, he said.
This immense, remote region drew me back again and again and even now, years and years since my last trip, I visit it in my dreams. It includes the northeast Congo Uganda Rwanda and South Sudan. I spent time with four different tribes in South Sudan: Dinka, Azande, Toposa and Murle. Later, I did heartbreaking and exhilarating famine relief work with the Karamojong, a similar tribe just across the Uganda border. It was a Dinka youth, high-school educated, who told me about the cattle camps and love songs. In the Dinka world, life is carefully planned and structured — you pass from child to warrior to elder — and rich with ritual and tradition. And love songs. I could write on and on about the joys and heartbreak of South Sudan but… you're here to meet Sasha. She invited me to join her when she cooked the food of South Sudan.
I couldn't think of a tougher cooking challenge. I'd eaten many meals with the villagers and they all featured the same thing. Wala-wala. A tough and flavorless millet porridge. If you're lucky, a cube of meat on top. You didn't go there for the food. What would Sasha cook? I wondered.
Keith, Sasha's husband, picked me up at my house. As we drove, we talked about his work. He designs networks for AT&T. Maybe that doesn't sound like much if you don't remember the old Bell Labs. Network designers just like Keith devised, not only new technology, but new ways of looking at the world analogizing the world as a network. One example being the sociology writings of Bell Labs graduate Gregory Bateson. He was one of my idols in my school days. Then, a cute little house lovingly furnished with mellow wood antique furniture. And in the kitchen Sasha.
She's cooking Kisra. These are a kind of sorghum crepes common throughout the Sudan but definitely eaten in South Sudan. She even found photos of villagers near Juba making kisra. The villagers use cow's brains to grease the skillet. Sasha opted for vegetable oil. Looks easy, doesn't it? Sasha, using a plastic square like a credit card, gracefully swirled the batter onto the skillet and spread it into a perfect fluffy circle. Why don't you try it? Sure, why not, I thought, it looks so easy.
It wasn't. I made a mess. Keith tried and he did just fine.
Meanwhile, Sasha lifted the lid you can see in the picture of her cooking. What could it be? Not wala-wala, I hoped. She poured whatever it was — definitely not wala-wala — into a platter.
And we went to the table. I told Sasha that in the Sudan everyone ate out of one huge communal pot, reaching their hands in and grabbing. Not as chaotic as it sounds, because there is a rigid order of precedence that determines who eats first. She was willing to try this but I opted for separate plates. I even used a spoon. And so… dinner is served!
And there was Ava. Four years old now. Not a word did she say but she watched me with fascination.
Was I watching her? No. All I could think about was that delicious food! That mystery dish… well, Sasha had triumphed. It was something I'd never heard of before, something called Combo, but as three Internet sites plus a phone call to the South Sudan embassy in Washington confirmed, an authentic popular dish eaten in the South Sudan.
Meat is browned and braised, spinach and tomatoes are mixed in and after they've cooked and simmered for a while… on goes peanut butter! It all cooks together, the peanut butter mixes with the caramelized meat juices and… boy does it taste good! I just couldn't stop eating! I kept grabbing more and more. The kisra was fine and fluffy too and the perfect mix with the Combo. It was a grand meal. And I mustn't forget the salad. Simply diced tomatoes and greens with a dressing made of peanut butter, lime juice and Thai bird chilis. Oh it was about the best salad dressing I've ever had.
After dinner Sasha told me about her new book. It is going to be published by National Geographic! Can't top that. It's about her life. She's led a fascinating life. She spent years in France and Luxembourg. It's about her blog. It's about how her family changed, matured, grew up (especially Ava) during the four years it took her to do her blog. And it's about how she changed, influenced by the rich and tranquil life she discovered in the villages of Africa, South America and Asia and by the delicious and infinitely varied food they ate. As we talked, Ava had fun… just like a happy village child.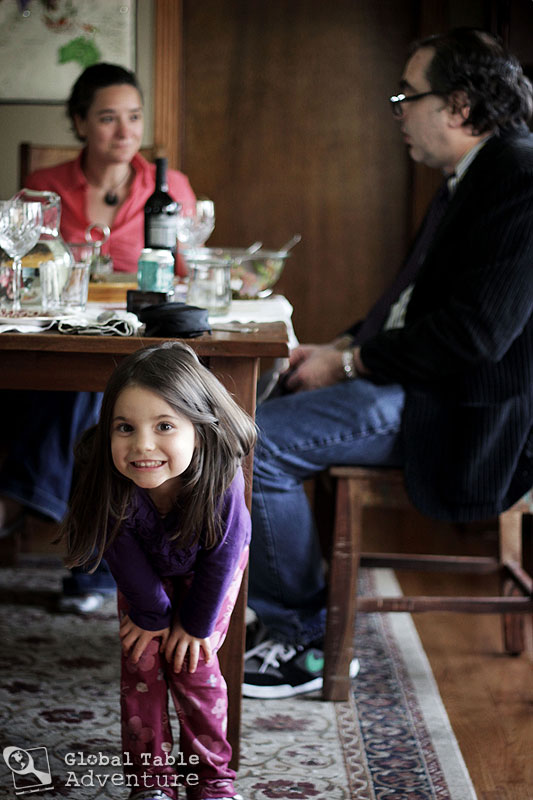 Then I read some passages from my book aloud. Somehow they epitomized what the villages had to teach. In the remotest part of South Sudan, driving in a truck, I saw a village, it's golden walls of earth and thatched roofs gleaming in the setting sun. I had the truck stop, let me off. I spent the night at the village. I didn't know that these people, the Toposa, didn't consider a child to be a man until he had murdered someone. I did know that they were happy and so was I.
"And yet the village was peaceful, incredibly peaceful. It was night by now, and I sat outside my house in the starlight. A few men from the neighboring houses sat nearby, for this was the village courtyard. The air was cool, and someone lit a fire. The men gathered around the flames. Some sprawled on the ground and others propped themselves up against a nearby wall. They had been out all day with the herds and they were tired. One or two talked in low lazy voices, discussing, I surmised, crops and cows and the weather, like farmers the world over. One old man pulled out a long pipe, stuffed it with tobacco, and puffed away, noisily sucking in the smoke and expelling it in loud contented sighs. The rest of the men were silent, and so was I. The starlight, the people around me, and the stillness of the night combined to fill me with an intense yet languorous contentment; a sort of happiness I had felt before in fleeting, evanescent childhood dreams and which, in waking, grown-up life can be recaptured only in small, remote places under the vast and spangled dome of night."
Global Table http://www.globaltableadventure.com
South Sudan meal review
http://globaltableadventure.com/2013/04/15/monday-meal-review-south-sudan/
Brian Schwartz: Author

Born in NYC, age 0, on my birthday. College in Oxford at age 16. Law School in New Haven, Conn. 6 years travel in Africa and Asia. Haven't done much lately. Still, I'm the only Tulsa member of the little-known Omega Society.  www.theomegasociety.com
I speak enough Chinese to order food not on any English menu. Spanish French Italian too (not fluently but food-ently) My favorite restaurant is Jean-Georges in New York. But those NYC chefs would sell their soul to get the produce available from the farms around Inola.
"A writer writes alone. His words tumble forth from a magical inner void that is mysterious even to himself, and that no one else can enter." And yet, the most important thing to me the writer is YOU. Without you to hear them, my words are worth less than silence.