Chef James Shrader the New Palace Cafe and a Meal Worthy of the Legend
Chef James Shrader is part of the Tulsa legend. Listen to the stories they tell, stories like you'd hear about an old-time oilman or cattle baron. They tell how he started cooking while still a kid, a young grade schooler in Seattle trying to devise the perfect spaghetti sauce. How his eyes were opened to the panoply of spices, produce and fine cuisine on school trips to Pike Street Market. How he attended the best cooking school in the U.S.A. but somehow ended up in Jenks, cooking at Back Street Bistro. How one day, driving past the corner of 15th and Peoria, he saw an empty building and said, I will build a restaurant there… and within 3 months he did. How farmers from the market right outside his doors started offering him deals on 20 pounds of farm-grown tomatoes and other similar produce and how this made him a convert to the fresh and local movement long before that movement was born. How he became entranced with Buddhism and this led him to spend a year as a vegetarian and later devise an all-vegetable second menu. How one day in 2011 he decided to close the restaurant down and rebuild it, and in a few months this was done.
All these stories are true. And last night I ate a meal worthy of the legend. Oh I'd been to Palace for countless lunches and a lot of brunches too… fine meals, but it's only at dinner that the place shines. And one or two dinners that didn't quite live up… but more on that later. First a word of warning. If you're a Palace regular but haven't been back since the redesign, prepare for the shock of the new. You won't recognize the place. On your right as you enter is a brand-new bar and lounge.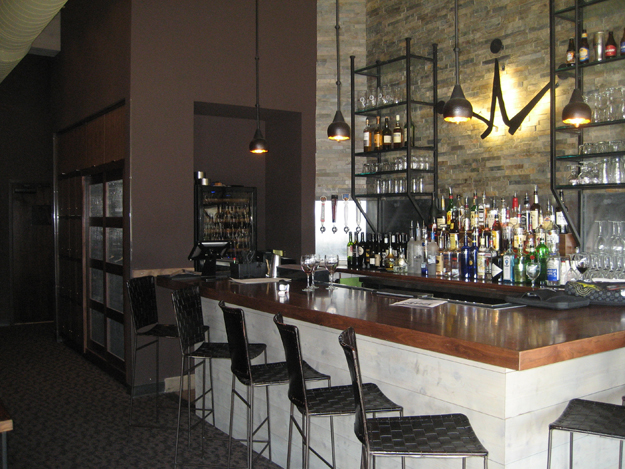 In the old days, the waiters would make your drinks. Now there's a dedicated bartender and he's an expert. But let's go to the dining room.
It's hushed, elegant, and very gray. Weathered planking and rough slate walls provide natural accents. Chinese-inspired art graces the walls. Farther west is another dining room.
The partitions around the booths are much higher than formerly, to give you privacy if that's what you want; if not, there are also tables.
But the dining room is just the stage. The food's the star. Begin with bentos. These Lilliputian plates (only $3 each, or 6 for $15) are prepared with all the care lavished on full-size entrees. They're cooked to order. Here's the Wild Mushroom Polenta.
Underneath the chewy, flavorful mushrooms and wilted greens is an apple-sage polenta cake and, under that, shredded red cabbage flavored with sesame oil. A lovely little gem. Incidentally, it's just about the only item that's on both the regular and vegetarian menus. Be sure they give you a copy of both regular and vegetarian menus because there are some intricate, delicious vegan dishes that would seduce even a confirmed carnivore.
There are a few full-sized appetizers, and a great choice there is the Fried Beef Short Rib Ravioli ($10).
Lovely, rich and golden-fried, topped with a sweet roast pepper chutney and a tangy blue cheese sauce.
And then to entrees. About a year ago, on my first dinner visit to the Palace, I ordered smoked pork tenderloin with maple-rum glaze, fried Yukon fingerling potatoes and sage-mustard sauce ($22 — not on current menu). It sounded lovely but the meat was dry and flavorless. I went back a year later and selected the Crispy Chicken ($22). The whole concept and design of this dish wowed me.
Chicken breast is pounded, cooked sous-vide a bit, rolled up with a mousseline made of the leg meat, wrapped with skin, briefly fried, and then baked. It looks so good, and the salad and asparagus were perfect. But it was like last year repeated. The meat was dry and flavorless. (The mousseline was really good though.)
I do not recommend ordering any meat entree that has been roasted, especially if it's a meat (like chicken breast or pork tenderloin) that has little fat. I might make an exception for the roast duck ($24), though, which is flavored with a blend of fresh spices, including 5-star anise and Sichuan peppercorns, which are ground and toasted in house. But here's one entree I DO recommend, very emphatically.
Braised Beef Short Rib ($22). A masterpiece! The ribs are braised for hours in a veal gastrique, which Shrader loves because it imparts a Chinese-style sweet and tangy flavor. Then they are left overnight to marinate. The ribs are soft, juicy, the flavor incredible, a blend of ribs and the gastrique. The lentils, cooked in meat stock, are great too. You might, in fact, say, forget barbecue! THESE are Tulsa's finest ribs!! So in short I've finally eaten a meal worthy of the legend.
I thought Chef Shrader couldn't do better. But on my return visit two weeks later, he did. So I will leave you with photographs of perfection.
Two exquisite jewel-like bentos share a bowl. A mini filet mignon garnished with caramelized onions sauteed in bourbon and a lamb sausage topped with onions marinated in a blend of citrus juices. Bold fantastic flavor. And then came this.
This is the polenta cake ($17) from the vegetarian menu. It doesn't look like much. It used to be served stacked in layers, and from photos I've seen that looked impressive. But you couldn't eat it. Everything would smash together when you put your fork in. So now it's served flat on the plate, and you can savor the flavor of each component. Grilled apple-sage polenta, soft yet savory, topped with tangy citrus-accented goat cheese mousse, served with meaty wild mushrooms, crunchy wilted greens and sweet yet spicy roasted pepper chutney. Each separately spiced and perfectly prepared. In short, the perfect dish.
Palace Cafe
1301 E. 15 St.
582-4321
www.palacetulsa.com
Open for dinner Tuesday through Saturday 5 PM to 10 PM.
Lunch is served Tuesday through Friday 11 AM to 2 PM and brunch on Sunday.
Brian Schwartz:

Born in NYC, age 0, on my birthday. College in Oxford at age 16. Law School in New Haven, Conn. 6 years travel in Africa and Asia. Haven't done much lately. Still, I'm the only Tulsa member of the little-known Omega Society.  www.theomegasociety.com
I speak enough Chinese to order food not on any English menu. Spanish French Italian too (not fluently but food-ently) My favorite restaurant is Jean-Georges in New York. But those NYC chefs would sell their soul to get the produce available from the farms around Inola.
"A writer writes alone. His words tumble forth from a magical inner void that is mysterious even to himself, and that no one else can enter." And yet, the most important thing to me the writer is YOU. Without you to hear them, my words are worth less than silence.