Better Mexican & Friendly People at La Hacienda
It was our last outing before the snow. We wanted something warm, homey, comfortable. "I've heard of a place called La Hacienda," I said. It was a good choice. Both the food and the restaurant live up to that description. It's a tiny place, welcoming, and run by friendly people. The chef when it opened years ago has now become the owner.
The chips and salsa came out right away, even before the menu.
They're unusual and creative. La Hacienda serves the same things you'll find at any Tex-Mex joint in town. But they make them better.
We split an order of Fajitas for Two ($20).
Lovely warm and steaming. See how the beef and shrimp glisten. They tasted as good as they look, wrapped in tortillas (they brought at least ten) and liberally slathered with all the things on this plate.
Diced tomato, sour cream, guacamole. Rice and refried beans too. And yes they brought two plates to be sure we had enough. "This is better than my favorite Mexican place!" Cathe said. She was delighted. So was Betty, who ordered the Carnitas.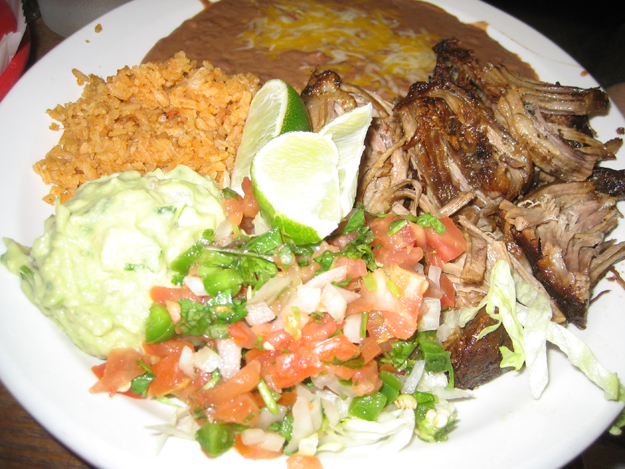 That's a traditional Mexican dish of slow-simmered pork that's first been marinated in orange juice and spices. I described it when I reviewed Senor Tequila. But this was so much better! They'd seared the meat to seal in the juices. I can't say if the dessert was better than Senor Tequila, because we were so stuffed we didn't have any.
La Hacienda
4518 S. Peoria Ave.
712-8645
Open daily from 8 AM to 9 PM
I called the food at La Hacienda Tex-Mex. I use the term loosely. Strictly speaking, Tex-Mex, the food served at Mexican restaurants in Texas, has a distinguished and unusual history, with lots of comic moments caused by the interactions of two very different cultures, as Mexicans struggled to please people they didn't fully understand. About 10 years ago, a Texas newspaper printed a detailed six-part series on this history. Here are links to these fascinating articles.
Part 1
http://www.houstonpress.com/2000-07-27/dining/pralines-and-pushcarts/
Part 2
http://www.houstonpress.com/2000-08-31/dining/combination-plates/
Part 3
http://www.houstonpress.com/2000-09-28/dining/mama-s-got-a-brand-new-bag/
Part 4
http://www.houstonpress.com/2000-10-26/dining/the-authenticity-myth
Part 5
http://www.houstonpress.com/2000-11-23/dining/the-french-connection/
Part 6
http://www.houstonpress.com/2000-12-21/restaurants/brave-nuevo-world/
Brian Schwartz:

Born in NYC, age 0, on my birthday. College in Oxford at age 16. Law School in New Haven, Conn. 6 years travel in Africa and Asia. Haven't done much lately. Still, I'm the only Tulsa member of the little-known Omega Society.  www.theomegasociety.com
I speak enough Chinese to order food not on any English menu. Spanish French Italian too (not fluently but food-ently) My favorite restaurant is Jean-Georges in New York. But those NYC chefs would sell their soul to get the produce available from the farms around Inola.
"A writer writes alone. His words tumble forth from a magical inner void that is mysterious even to himself, and that no one else can enter." And yet, the most important thing to me the writer is YOU. Without you to hear them, my words are worth less than silence.