December 14th, 2012 by Brian Schwartz – Comments (5)
Stop at the door and pick up a cowboy hat. It's bright blue or orange, made of plastic, and it's free. There are plastic sheriff's badges too, and chalk to draw on the tables. Play Picasso while you wait for your "Frontier Appetizers", which include treats like fried pickles, fried mushrooms and candied bacon ($6 each). No, it's not a cowboy theme park, or a club catering to drunks and little children. It's just a touch of whimsy in a family restaurant serving good homestyle food.
Here's when I first knew I had to go to Oklahoma Roadhouse.
The restaurant had just opened and I saw that photo on their Facebook page. Yes, it's a donut burger. To quote their menu, "mouth watering hamburger served between two hot glazed donuts topped with egg, cheese, and bacon" (half-pound $7.49, one pound $10). They have lots of great burgers on their menu. Bacon burgers, burgers on Texas toast smothered in fries and gravy, even deep-fried burgers.
It's an easy ride from Tulsa… just a hundred feet or so south of the 161-Elm exit of the Broken Arrow expressway. We walked in to find this.
Yes, I believe this building had a former life as a McDonald's or a Wendy's. But there's no fast food here. Everything's prepared to order, the manager told me. All from fresh produce, everything done from scratch. The staff were friendly, we discussed the order, decided to skip the donut burger. I ordered chicken-fried steak ($10.49). Like all entrees, that comes with two sides. I chose a baked potato and onion rings. My friends got salads as one side, and as they ate their nice big salads I ate some of the hot rolls — fresh, sweet and addictive, a lot like the ones in nearby Shiloh Diner. They come with butter, honey, and cinnamon butter (which tastes like pumpkin pie). Then our orders came.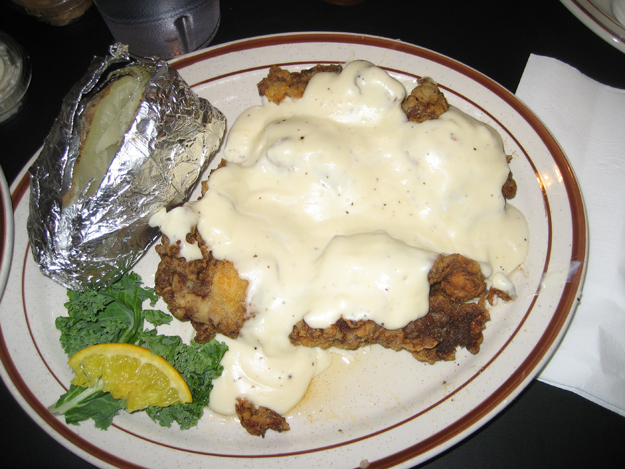 That's Betty's chicken-fried steak. I took a photo because it looked better than mine. But as you can see, mine looked really good too.
And it tasted good too, one of the best chicken-fried steaks I've had in a while. The meat was flavorful and the batter didn't fall apart the way it too often does. The gravy was excellent. I enjoyed the big meaty potato, and the hand-battered onion rings were good too, though I've had better.
There are lots of other entrees available. Chili, pork shank, a one-pound sirloin ($16), fried catfish, even lasagne. Cathe got the smothered chicken.


That looked bland and boring but it wasn't. The chicken breast was basted with a sweet soy marinade and there were sauteed peppers and onions to add a kick. Still, I preferred the steak.
You can get Oreo pie for dessert, or cheesecake. But we didn't. Perhaps we will on a return visit. It's worth returning for good food, good service and good prices.
Oklahoma Roadhouse
1530 N. Elm Place (very near Elm Place exit)
872-6361
Open 11 AM to 9 PM every day except closed on Sunday
Brian Schwartz: Author

Born in NYC, age 0, on my birthday. College in Oxford at age 16. Law School in New Haven, Conn. 6 years travel in Africa and Asia. Haven't done much lately. Still, I'm the only Tulsa member of the little-known Omega Society.  www.theomegasociety.com
I speak enough Chinese to order food not on any English menu. Spanish French Italian too (not fluently but food-ently) My favorite restaurant is Jean-Georges in New York. But those NYC chefs would sell their soul to get the produce available from the farms around Inola.
"A writer writes alone. His words tumble forth from a magical inner void that is mysterious even to himself, and that no one else can enter." And yet, the most important thing to me the writer is YOU. Without you to hear them, my words are worth less than silence.
Tags: American · Broken Arrow