Taj Flavor – Not Your Average Food Court Fare
It's normally not a good idea to travel ten miles out of your way to eat dinner at the food court of a mall. But it's a great idea if the chef at that food court establishment used to own Taj India Cuisine in Oklahoma City, which had a loyal coterie of patrons who swore it had the best Indian food in Oklahoma. It's a great idea, in short, if you're dining here.
The setting isn't very inspiring: plastic chairs, plastic tables, plastic walls. Lots of other food stalls around, offering Greek, Chinese, Pizza and other questionable delights, though the dining area is common to all and I suppose you could order items from each and set up your own multinational buffet. The menu isn't that inspiring either. Though there are one or two South Indian appetizers such as Masala Dosa and some tandoori entrees such as Kathi Kebab (which we didn't try), most of the items have generic names such as "Chicken curry" and "lamb curry". But what a world of spice-infused delight awaits behind those bland names!
You order at the counter, where eight or nine entrees, prepared earlier in the day, languish in vats. If you order one of those, it's yours immediately. If you order something else, it's cooked to order in the kitchen. Which to choose? I've always instinctively gone for dishes made to order just for me, but many people who know Indian food have told me that it's better to choose something from the counter because Indian curries improve if you let them sit for a few hours. So we did both. I got the lamb curry ($9 — prices are higher than on the website or printed menu), the chef set about making it, and about 15 minutes later out it came.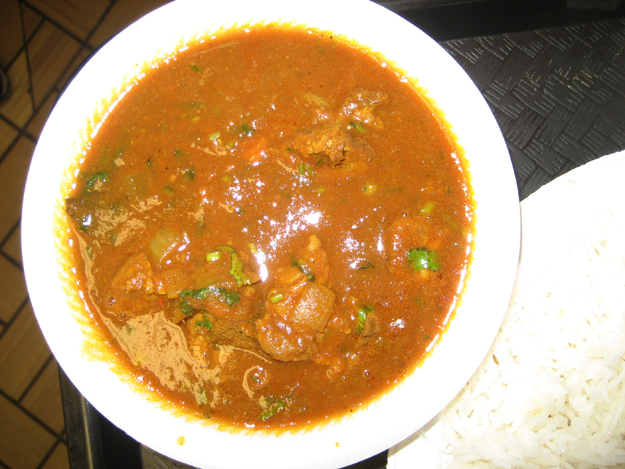 You can see how rich it looks, and it tasted even better. Though I can't identify any of the spices, except for cinnamon, cilantro and bay leaf because fresh-chopped bits of each floated in the mix, I can be sure it wasn't made from curry powder or store-bought masala mix. Those spices were ground by hand and perfectly blended. The flavor was rich, somewhat fiery (I had requested medium hot) and very exotic, with more than a whiff of the subcontinent. The curry was accompanied by basmati rice and naan flatbread, and both were way better than average.
The basmati rice was used to fine advantage in the Chicken Biryani ($8).
Fine mellow spices, a few sprigs of sprightly mint, and some hard-boiled egg too. Which to eat first, the chicken or the egg? They're both great.
Betty ordered the Chicken Combo ($8.50), which comes from the ready-made counter. I'd been staring longingly at the lovely vegetable curries, which so many people say are the star of the show in any Indian restaurant, and I'd asked if any came with my lamb. No, I was told. And then when it came time to serve Betty, the owner gave her a big helping of dal, along with two kinds of chicken (regular curry and tikka masala). That's not fair! I said. And I didn't get to taste any. But it looked so good!
Next time, I'll order that. But I made up for it by ordering (after a long wait while a woman in a sari placed an order) a sweet mango lassi ($3) as a kind of dessert. Mango mixed with yogurt in a traditional Indian smoothie. It was so good I forgot to take a photo.
Taj — The Flavor
Food Court, Promenade Mall
4107 S. Yale Ave.
Tulsa, OK
(918) 270-2710
www.tajflavor.com (prices are higher than on website menu)
Open 11 AM to 9 PM every day (except Sunday closes at 6 PM)
Brian Schwartz: Author

Born in NYC, age 0, on my birthday. College in Oxford at age 16. Law School in New Haven, Conn. 6 years travel in Africa and Asia. Haven't done much lately. Still, I'm the only Tulsa member of the little-known Omega Society.  www.theomegasociety.com
I speak enough Chinese to order food not on any English menu. Spanish French Italian too (not fluently but food-ently) My favorite restaurant is Jean-Georges in New York. But those NYC chefs would sell their soul to get the produce available from the farms around Inola.
"A writer writes alone. His words tumble forth from a magical inner void that is mysterious even to himself, and that no one else can enter." And yet, the most important thing to me the writer is YOU. Without you to hear them, my words are worth less than silence.