September 28th, 2013 by Jill Meredith – Comments (4)
The Tulsa State Fair opened on Thursday to huge crowds and a bunch of hungry, carnivorous foodies on the prowl for all things fried, cheese laden and unusual. That's right boys and girls, OKFoodie embarked on its third annual Fair excursion to seek out the good, the bad and the downright ugly in this year's Fair food offerings.
OKFoodie co-hosts Amanda Simcoe and Dan Potter assembled an eclectic mix of chefs, food writers and general food enthusiasts who were willing and in most cases, very eager to sample a large variety of gastronomical delights.

I for one, was so honored to be part of this fun, food savvy group that included Amanda Simcoe, Dan Potter, Skyler Cooper, Brian McCullough, Tiffany Poe, Mac Poe, Judy Allen, Honey Badger Kaiser, Lesley Shollmier, Thomas Clegg, Stuart Zimmerman and me, Jill Meredith.
One of our most vocal (and certainly the cutest) members of the group was eight year old Mac Poe, son of Tiffany Poe. Quite the trooper, he eagerly tasted everything that the rest of us tried and had definite opinions about each. (Spoiler Alert: He didn't particularly care for the cricket pizza, but he was not alone!)
The first, and probably most tame food offering of the night was the Mexican corn. Smoky with a little saltiness from Parmesan cheese and a lime wedge for zing, it was a favorite among the OKFoodies

Photo from Judy Lockhart Allen
The unanimous favorite bite of the evening was the Bacon Jam Ham Sammich. With its double porky goodness through and through, the sweetness of the jam complemented the ham very well. It's something that all of us could have happily kept eating.

Photo byJudy Lockhart Allen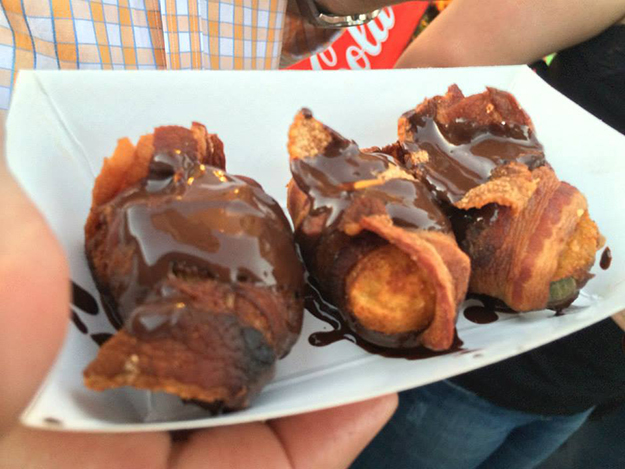 Other notable highlights of our food fest were the deep fried Fruity Pebbles, the fried pickles. fried shark, Red Velvet Oreos, fried cheese on a Stick, (The pepper jack was especially tasty.) Armadillo eggs (cream cheese and cheddar cheese stuffed jalapeno wrapped in sausage and deep fried.) and chocolate covered jalapeno poppers.
Of course, hands down, the most disgusting bite of the night was the cricket pizza. Tasting something like extra crunchy garlicky popcorn…with eyes, the thought of eating those little critters was worse than the actual taste. Had the pizza itself been good – maybe with a crispy crust – that would have helped immensely. Alas, it was not. One bite (and one cricket) was about all I could muster.
Video Link for Cricket Pizza
If you're palate isn't quite ready for creepy crawly pizza or some of the other less conventional food offerings, you can always get a caramel apple or a good old fashioned corn dog and no one will judge you.
Personally, I was probably the most excited about the alleged Fried Pumpkin Cheesecake, but sadly, we were never able to find it. If you happen to be lucky enough to stumble upon it, please eat a piece for me.
Be sure to get out there and experience this food for yourself. Let us know your thoughts on the food and tell us about your list of the good, the bad and the ugly.
For some Extra Foodie Fair Reads Here is Foodie friends, Lesley Shollmier's, Food Fair Guide.
No, she did not eat the fish…

Photo byJudy Lockhart Allen
TO MY FOODIE FAIR GOING FRIENDS:
Here are my favorite food recommendations from last night's fair food adventure:
I've based it on the zones from the attached map.
Zone E6 (outside, just east of the expo building in the main food court area):
- MEXICAN CORN (amazing) – Freddie's (right next to stairs to Expo building)
- CHEESE ON A STICK (with mustard) – Corn dog place just north of Freddie's (also right next to stairs to Expo building)
- CRICKET PIZZA (disgusting, but worth looking at) – pizza booth just a few booths east of the above corn dog place.
Zone E/D6 (main food strip running north to south on far east side of the fairgrounds):
- BEST FRIED PICKLES (crunchy spears that have been dill tempura battered) – Pierre's concessions (backs up to perimeter; look for booth that has fried shark, baconade, and just about everything fried under the sun….there's a bunch of meat/onions on the griddle in the window)
- FRIED SHARK (very tasty) – Pierre's (same as above)
- BACONADE (sneak in a flask of bourbon, throw in a splash, and it is perfection) – Pierre's (again)
Zone C/D & 4/5 (Esplanade on far north of fairgrounds that runs west to east….another main food path):
- RED VELVET OREOS (surprisingly tasty) – McKinney's Concessions (backs up to Ford Truck arena and just across from the giant sling shot ride…..look for the red velvet oreo sign)
- BACON JAM HAM SAMICH (****A MUST & DELICIOUS****) – Back Street & Kings Table (just a few booths to the west of the red velvet oreo place….backs up to ford arena)
- CHOCOLATE BACON POPPERS (loved these) – Back Street (same as above)
- FRIED FRUITY PEBBLES (surprisingly tasty, but so wrong) – just a few booths west from Back Street booth on same side (in between the Ford Barn and Exchange Building)
- PORKABELLA KABOB (good, but not great…..I was too full at this point & time) – Bacon Habit (just west of fruity pebble booth)
- WILD BOAR KABOBS (heard these were great, but they were out) – Bacon Habit (same as above)
-FRIED PUMPKIN CHEESECAKE (we looked for this, but couldn't find it)
HAPPY EATING YA'LL!
http://www.tulsastatefair.com/pdf/tsf2013groundsMap.pdf
www.tulsastatefair.com
—-
Jill Meredith – Author
Jill is a foodie and freelance writer who lives in Broken Arrow with her husband, their daughter and some furry family members. She loves spending time in the kitchen developing new recipes and reading cookbooks like novels. Besides writing for TulsaFood.com, Jill also writes monthly food related columns for Oklahoma Magazine and several weekly articles for Examiner.com. She loves sharing her knowledge and has even taught cooking classes.
Tags: Fried Food