Mole Poblano at Tres Amigos Mexican Grill
I don't think there is any doubt that Mexican cuisine is the most complex and sophisticated in the New World. (Sorry, Peru!) Many of the dishes date back to pre-Columbian times, and their startling blend of flavors seem like relics of an ancient, long-forgotten and inscrutably alien civilization. And the pinnacle, the absolute apex of Mexican cuisine is now available for the first time in Tulsa!
Who are the world masters of cuisine? You think immediately of France, Italy, or China. But few if any recipes from those countries can rival the rich, complex Mexican sauces called moles (pronounced moh-lays) There are many of them, and they vary widely from region to region. The most famous of all is Mole Poblano, which comes from Puebla in south-central Mexico and was invented around 1680 by, legends have it, nuns in a local convent, the Convent of Santa Rosa. (The Convent, which used to be a refuge for Spanish aristocrats' daughters — which is why they were such sophisticated cooks — was disbanded long ago, but the building may still be visited in Puebla.) Legend aside, moles have their roots in Aztec and pre-Columbian cuisine. In the Nahuatl language, the language of the ancient Aztecs, they're called mullis. Before the Spanish arrived on the scene, they were far less complex than Mole Poblano. Mole Poblano and indeed most modern moles are a marriage of indigenous and Spanish techniques and ingredients. Mole Poblano has 30 ingredients, including mulato, ancho and pasilla peppers — and, yes, chocolate! — and takes hours to prepare. Though I've never seen it in a Mexican restaurant in Tulsa until now, everyone I've asked at such restaurants knows it, and their eyes light up with fond memories. It brings back memories of holidays and happy occasions.


I've never seen Mole Poblano in Tulsa and I've been looking for ten years. I looked in all the Mexican restaurants on Garnett near 21st Street, phoned or visited every other authentic Mexican restaurant I could find from 61 and Peoria through to northside, including of course Rio Verde. Some well-known Tulsa restaurateurs have told me that it was indeed available but I never saw it and I sure tried hard. Finally last night I had it at Tres Amigos, at 8144 S Lewis. Brian McCullough just did a fine review of that place, and if you're looking for awesome fajitas or other dishes (including another famous mole, Mole Pipian, which I've seen in only one other Tulsa restaurant, Casa Frida), read what he has to say.
But if you want to sample the rich indescribable flavor of Mole Poblano, served over a nice big juicy piece of chicken, read no farther. Just look at these photos and go.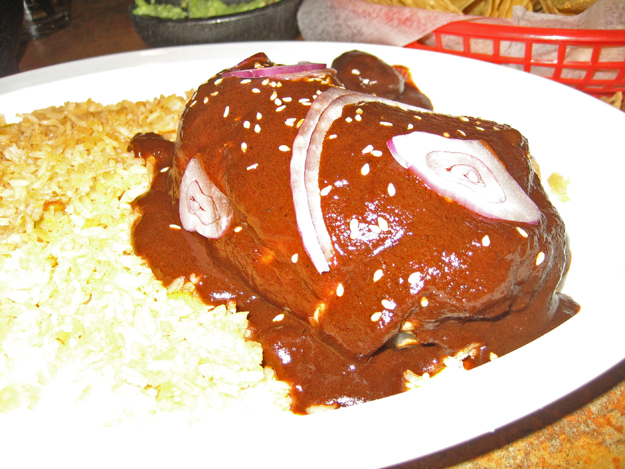 I like this version. It's fine and complex and the taste still haunts me. Even if I found it in New York, where the mole is fairly easy to find if you know what neighborhoods to look (Jackson Heights in Queens is a good bet), I'd consider it a good dish. If for some reason you want a more common dish, do what my friends did and have the fajitas.


A few years ago a New York Times reporter devoted two days to making Mole Poblano. "Almonds, raisins, pumpkin seeds, a purée of three kinds of dried chiles, a stale tortilla – one by one, in endless procession, I fried the ingredients in lard," he wrote, "combining them in the end with toasted spices and a square of Mexican chocolate to form a sauce that glowed faintly with heat and shone with shadowed flavors." He then traveled to Puebla, Mexico to try to find a good restaurant version. He couldn't find any. He should have come to Tulsa.
Tres Amigos Mexican Grill & Cantina
(918) 518-5554
8144 S Lewis Ave
Tulsa, OK 74137
Brian Schwartz

Born in NYC, age 0, on my birthday. College in Oxford at age 16. Law School in New Haven, Conn. 6 years travel in Africa and Asia. Haven't done much lately. Still, I'm the only Tulsa member of the little-known Omega Society.  www.theomegasociety.com
I speak enough Chinese to order food not on any English menu. Spanish French Italian too (not fluently but food-ently) My favorite restaurant is Jean-Georges in New York. But those NYC chefs would sell their soul to get the produce available from the farms around Inola.
"A writer writes alone. His words tumble forth from a magical inner void that is mysterious even to himself, and that no one else can enter." And yet, the most important thing to me the writer is YOU. Without you to hear them, my words are worth less than silence.