February 22nd, 2013 by Brian Schwartz – Comments (9)
Some foods inspire cravings. A few inspire obsessions. One of these is Banh Mi, that meal in a baguette that's a marriage of French flair and Vietnamese flavor. Until a few months ago, if you wanted a Banh Mi you had to drive to Oklahoma City, and some people did. Then came the Lone Wolf food truck. Tulsa Banh Mi lovers could check their website, wait till a lucky day when the truck was running, follow it, and wait in a long line. But now you can get a delicious Banh Mi in Tulsa any day you want (except Sunday), at any hour except late night, served without wait in a cozy dining room, at Pho V-Nam. And it's a fine place too to satisfy that other Vietnamese food obsession, and get a big steaming bowl of pho.
It's a friendly family place, run by a Vietnamese couple who have been in Tulsa almost 20 years. (Before this, they ran a nail salon, but they wanted a change of pace.) That's the wife smiling in the photo. We walked in on a Monday around 5 PM and the tiny place was empty, except for a family happily eating who had obviously been there many times before. "Hey there's a dollar off on the pho," a boy shouted to us. "No, the discount is just for you," one of the owners called out, "because we love you!" But they are ready to love everybody. They came over to chat as we perused the menu. "It's a short menu because there are only two people working here … us!" said the man. Short, but good. First thing we did was to order a banh mi ($5) to share.
"Like a musical band with rock star status, these sandwiches have an almost cult-like following of epicurean devotees." So says a website devoted to Banh Mi. (Yes, there are Banh Mi websites.) Taste this Banh Mi and you will see why. Usually the authentic Banh Mi baguette is hard and chewy; this one was soft, tender, perfect. The aioli spread was a bit heavy on mayonnaise, with less of the traditional pork juices, garlic and Nuoc Mam that usually infuse the spread. Still great though. Crunchy pickled vegetables and a bit of cilantro perfectly complemented the marinated grilled pork. (Beef and chicken are also available.) I meant to try only a few bites to save room for the pho but I ended up eating half of the huge sandwich. And then the pho ($9) came.
Pho can become an obsession. Hot, steamy, redolent of beef and a thousand spices, curiously comforting and evocative, with hints of the sea and the land, of rice paddies and temple bells, to us a bit exotic but to Vietnamese bringing memories of home and childhood in quite the same way as a simple tea cookie helped Proust to recapture his past, this simple soup, first served in northern Vietnam around 1880 but only becoming popular after 1950, has achieved the aura of fable and tradition. There are websites, clubs, magazines. Pho debates are endless. Which is better, northern or southern? What condiments should be added? You can imagine a pilgrim sliding along muddy jungle trails, gliding on tiny boats up the Mekong, searching for that perfect bowl of pho.
I cribbed that last paragraph from my review of Pho Da Cao. I still think that Pho Da Cao has the best pho in Tulsa. Or at least I did when I first tasted the Pho V-Nam version. But time passed, I kept slurping, I kept tossing in handfuls of the crunchy bean sprouts and cilantro that came in a plate alongside, and those mixed in to give the rich homemade broth an even richer, more complex flavor. And the pho kept getting better!! So who is to say which one is better? I love them both.
Meanwhile, my friends got cold noodles topped with chicken, shrimp, peanuts and a rich sauce made with Nuoc Mam.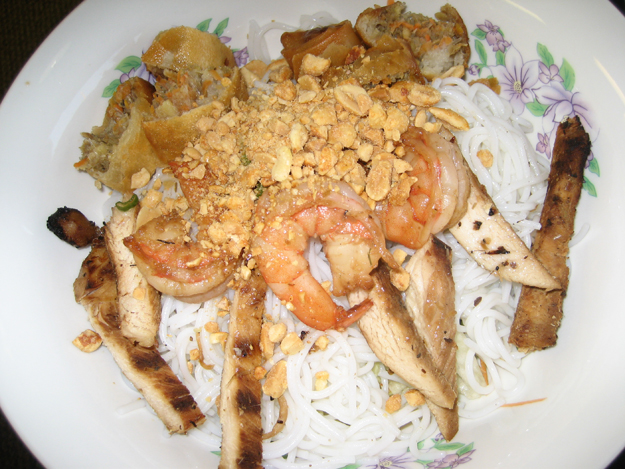 They liked it but I didn't even bother to taste it. I was enraptured by pho. And, of course, by the excellent Banh Mi. "We almost took it off the menu," said the husband, "because nobody wanted it." What's up with that??
Pho V-Nam & Vietnamese Sandwich
8122 S Harvard Av.
574-2888
Open Monday through Saturday from 11 AM to 8 PM
Brian Schwartz: Author

Born in NYC, age 0, on my birthday. College in Oxford at age 16. Law School in New Haven, Conn. 6 years travel in Africa and Asia. Haven't done much lately. Still, I'm the only Tulsa member of the little-known Omega Society.  www.theomegasociety.com
I speak enough Chinese to order food not on any English menu. Spanish French Italian too (not fluently but food-ently) My favorite restaurant is Jean-Georges in New York. But those NYC chefs would sell their soul to get the produce available from the farms around Inola.
"A writer writes alone. His words tumble forth from a magical inner void that is mysterious even to himself, and that no one else can enter." And yet, the most important thing to me the writer is YOU. Without you to hear them, my words are worth less than silence.
Tags: South Tulsa · Vietnamese