Top 5: Best Burgers in Tulsa
By
Staff
on March 6, 2009
Here are our favorite Tulsa burger joints in addition to some of your own.  We put each restaurant through a vigorous test to make sure that they are a well rounded favorite.  We use many different online and media sources to confirm the results.  Hope you enjoy!
Thanks to all those that submitted their favorites…
let us know if you agree or disagree with our list, we look forward to hearing from you.
Vote for Tulsa's best hamburger among many of Tulsa's favorite hamburger joints and restaurants around the Tulsa area. Also browse Tulsa Hamburger pictures, check the Tulsa hamburger map and read past burger food blogs from Tulsa Food Foodies.
Top Tulsa Burgers
#1 Burger in Tulsa
The Boston Deli Grill and Market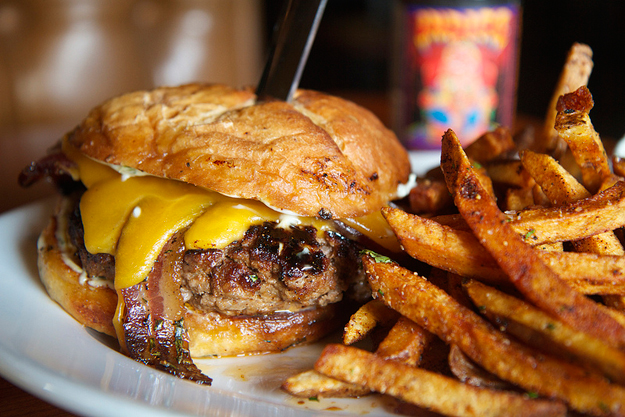 Boston Deli cures and smokes their own bacon (which is out of this world on its own), makes the aioli, smokes the cheddar cheese, and hand makes the potato buns. Of course the fries are fresh, made for each order. Almost forgot to mention that their pickles are made in house. When you add all of these culinary technics you end up with one of Tulsa's Best Burgers if not the Best in Tulsa.
Note: Burger only available on the dinner menu.
6231 E 61st St
Tulsa, OK 74136
(918) 492-4745
thebostondeli.com
facebook.com/The-Boston-Deli-Grill-Market
Claud's
2
Awesome Photo from the Tasha Does Tulsa photo stream
Claud's is known for the fabulous atmosphere of their joint.  The burger however seems to resonate even more with people.  If you are in need of a place with great atmosphere and an even better burger head on down to Claud's.
$
3834 S Peoria Ave
Tulsa, OK 74105
(918) 742-8332
===
$$
===
Hanks
3
Hanks: Hank's Hamburgers has been a Tulsa landmark since 1949. Serving old fashioned hamburgers with the onions grilled in the meat and special seasonings that make the burgers melt in your mouth. One of our best selling is the "BIG OKIE" shown below. It is a full one pound burger, consisting of four 1/4 pound patties, four slices of cheese and lettuce, tomatoes, pickle and onion.
$
http://www.hankshamburgers.com
8933 E Admiral Pl
Tulsa, OK 74115
(918) 832-1509
===
Brownies
4
Brownies: If you are looking for a classic cheeseburger at a great price you have got to give Brownie's a try. Brownie's is a Tulsa institution that is a must try.
$
Brownie's Hamburger Stand
2130 S Harvard Ave
Tulsa, OK 74114
(918) 744-0320
===
Brewburger
Brewburger: Really great burgers. Instead of hamburger buns, they use Ciabatta rolls. The french fries were wonderfully crunchy.
$
Popular Vote!
Brew Burger
6577 E 71st St
Tulsa, OK 74133
(918) 591-2818