August 22nd, 2013 by Jill Meredith – Comments (3)
First impressions are usually a pretty good indication of how something really is. This can be true for people and businesses as well.  Such was the case when I visited Boston Deli recently on two separate occasions.
A long time Tulsa fixture at 61st and Sheridan, Boston Deli is known for its consistently good food and good service.
Having been there for both lunch and dinner recently, the tone at both is, well…the difference between day and night.


Owner Ken Schafer offers a beautiful place to relax in the evening with full table service and sophisticated food, created by Executive Chef, Doug Zimpel. On a recent evening, I was thoroughly delighted with a Southwest Caprese Salad, a trip of very interesting deviled eggs and a lovely and complex salmon roulade. Dinner specials change nightly.
Lunch is geared more towards those who are on their lunch break and need to get in and out in a hurry. It is so fast paced, I felt like I had actually just stepped into a deli in Boston. Service is quick and efficient. Once placing your order and paying at the counter, you find a seat and wait for the server to call your name and deliver your food.


My meal started with crisp and greaseless sweet potato chips ($1.25). They were so delicious, I could have easily devoured the entire plate, but I knew I needed to pace myself for the rest of the meal.


Next came a cup of cool gazpacho, topped with crispy croutons. Chunky with a fresh tomato flavor, it was the perfect summer soup.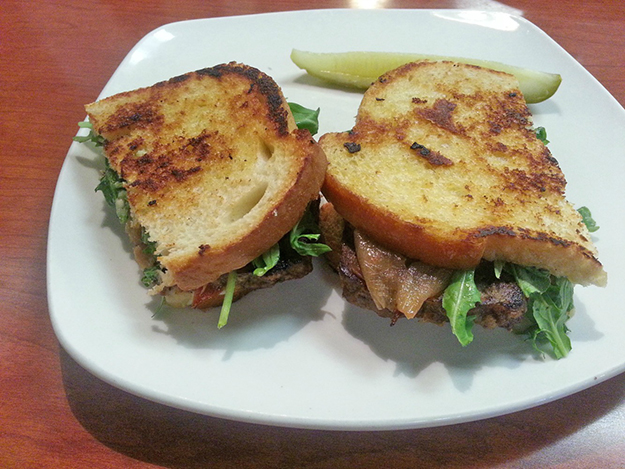 I decided to try their daily lunch special and I was so glad I did. The Blackened Meatloaf Sandwich ($8.95) was a whole symphony of flavors that worked together to make one harmoniously delicious sandwich. Stuffed with roasted veggies and topped with caramelized onions, arugula, baby Swiss, basil mayo and piled sourdough bread, it was unusual, but insanely delicious.


There were so many sides from which to choose, I tried three (each was $2.29.): The Red Skin Potato Salad, Pasta Salad with Artichoke Hearts and Veggies and the Knarley Quinoa Tabouli.


All three were flavorful and full of interesting textures and colors. I particularly loved the tabouli that was different from any I have ever had before. The typical bulgar wheat was replaced by quinoa and joined by corn, garbanzo beans (chickpeas) and red kidney beans. I may never want regular tabouli again.

Picture by Joe Price
Desserts change regularly, but include homemade cakes, pies, cookies and more.
Whether you go for lunch or dinner, you certainly won't be disappointed. The food alone is worth many a return visit to Boston Deli.
Boston Deli Grill & Market
6231 E. 61st Street
Park Plaza Center
Tulsa, Oklahoma 74136
(918) 492-4745