Roseanna's in Krebs Serves Italian Food in a Colorful Historic Setting
Roseanna's in Krebs. Mediocre Italian food in a colorful historic setting.
"Wow, there's nothing here but shacks and Italian restaurants!" I said. "Why Italian restaurants?" To answer that, you have to go back a long long way. It started with Louis XIV. His grand flamboyant reign bankrupted France, and just after he died in 1715, the French government called in a Scottish economist, himself a colorful figure, named John Law to fix the financial mess. Law proposed some intelligent reforms but then ruined everything with his grand scheme to make France's colonies in America turn a profit. This led to a big company which later collapsed, but before that happened Law's agent in Louisiana sent a guy named Bernard de la Harpe to explore what is now Arkansas and the land beyond. In 1719, he found coal in southeast Oklahoma.
Fast forward about 150 years. Another intrepid explorer, J.J. McAlester, heard about the coal and came in search of it. In 1872, he married a Choctaw woman, which gave him the right to search for and mine coal on Indian land. Near a place called Bucklucksy, he found it. Railroad executives tested it, and said it was the best steam coal west of Pennslyvania. Rail lines were built, and Bucklucksy changed its name to McAlester. The first big coal mine was built at Krebs, just east of McAlester. That and its sister mines nearby were the country's worst in terms of safety, but thousands of poor immigrants nonetheless flocked to Krebs to find work. A man could make five dollars a day! Most of these immigrants were Italian. They stayed in simple houses erected by the mining company. Later on, the mines ran dry but some of the immigrants stayed. Some of them opened restaurants.
On our way from Tulsa to Dallas, we took I-75 south, ignoring the enticing signs for Henryetta's Pig-Out Palace, and left the highway at McAlester. East through town, past the tall churches and civic buildings, and a mile east of town was Krebs, nothing but shacks and Italian restaurants. Roseanna's is on the main street but we cruised by twice before we saw the sign.
A bit farther back, an old house.
Typical Oklahoma style. It could have been built for a mine foreman. You'd never guess there was Italian food inside. And the inside played along with the miner's home motif, complete with fireplace and old photos
Oh but there is Italian food. You should probably get the artichoke dip. It's about the best thing there.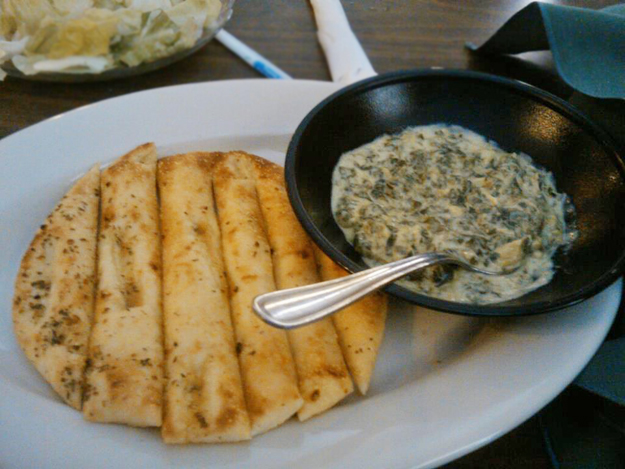 Creamy goodness with fresh-baked bread. I wish the main courses were that good. I got Rose Ann's Sampler Platter.
A mountain of food for $14. There's fettucini Alfredo, manicotti, spaghetti and a meatball. The sole manicotto was good, a bit soft, and the fettucini was nice and chewy though the sauce was a bit watered down. The spaghetti was as soggy as the noodles in chicken noodle soup, though the red sauce was satisfactory. The meatball was really good. I liked the Sampler. It would have been great at the State Fair. Not worth a special trip from Tulsa though. My friends, sadly for them, ordered the $7 special, which was nothing but that soggy spaghetti with meatballs.
At least they got two meatballs. Finally, Julianna, Cathe's daughter, who took the photos, got Frank's Combination Platter ($11, small size)
Lasagna, spaghetti, gnocchi, ravioli, meatball. A complete tour of red sauce Italian. And the sauce, I should add, wasn't bad at all.
In short, I wouldn't make the trip from Tulsa just to eat at Roseanna's. But given the history and charm, it's a neat way to find a meal if you're driving from Tulsa to Dallas.
Roseanna's Italian Restaurant
205 E Washington (Highway 31)
Krebs, Oklahoma
(918) 423-2055
Open Tues through Sat 11 AM to 8 PM, Sunday closes 2:30 PM, closed Monday
http://www.roseannas.com
Brian Schwartz:

Born in NYC, age 0, on my birthday. College in Oxford at age 16. Law School in New Haven, Conn. 6 years travel in Africa and Asia. Haven't done much lately. Still, I'm the only Tulsa member of the little-known Omega Society.  www.theomegasociety.com
I speak enough Chinese to order food not on any English menu. Spanish French Italian too (not fluently but food-ently) My favorite restaurant is Jean-Georges in New York. But those NYC chefs would sell their soul to get the produce available from the farms around Inola.
"A writer writes alone. His words tumble forth from a magical inner void that is mysterious even to himself, and that no one else can enter." And yet, the most important thing to me the writer is YOU. Without you to hear them, my words are worth less than silence.