December 28th, 2012 by Brian Schwartz – Comments (10)
I just ate the best steak in the world! That's what I told everyone who'd listen after my incredible dinner at Prhyme. Prhyme is Tulsa's new steakhouse run by Justin Thompson, Tulsa's legendary restaurateur whose other restaurant, Juniper, is one of Tulsa's treasures. How does it compare with Peter Luger? was the first thing they asked. But alas I've never eaten at New York's famed steak house, so I'll amend my claim. The dry-aged strip steak I ate in Prhyme was the best steak I've eaten in my life. And I've eaten a lot of steak.
Steak satisfies deep primal cravings. When they weren't busy hacking each other to bits, the tough macho warriors of Homer's Iliad spent all their time, or so it seems, throwing huge steaks on the grill. A good steak brings back memories of childhood (especially to older people, since before the invention of supermarket plastic wrap, all steaks were inevitably to a slight extent dry-aged). Had Proust been American, his moment of revelation would not have involved a prissy cookie. It would have featured a thick sizzling steak. Yes, steaks are very American. And masculine too. (If only because some men might be disturbed to think that women have that sort of blood-lust). That's why, in New York, the best steakhouses, like Peter Luger, are decorated like old casual saloons, heavy on the wood paneling. (In Tulsa, Doe's is a good example of this decor.) Prhyme's not like that. It's the most elegant restaurant in Tulsa. The waiters wear well-tailored grey suits and ties. Though the ambiance is welcoming and not stuffy, you might want to dress up too (although more casually dressed diners are also welcomed).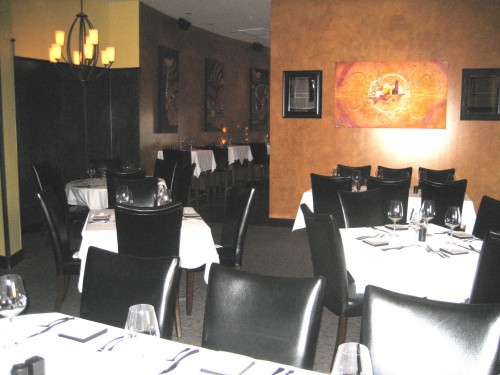 I strolled in around 4:30 PM on a Friday evening and I had my pick of tables. There was one elderly black lady, all dressed up, eating a pork chop. She seemed to be a regular. Apart from that I was the only diner. I'm told that if you come much after 5:00, you won't get in without a reservation. The word has spread. (Note: this is a long review and as a reward to you, somewhere in it I will tell you how to get a meal at Prhyme for $12.)
There's a big selection of appetizers such as crab bake, veal marrow canoe, Caesar salad, snails, truffle flan, as well as the finest Osetra caviar. (That's a yellow caviar from Russia or Iran, as good as beluga. It's way over $100 an ounce.) One of my friends is a business-owner and took twelve of his assistants to Prhyme (he's a good guy to work for!!). They ordered lots of appetizers and sides as well as steak and he later told me that they were all very good. Me, I skipped the appetizers and went straight for the steak section of the menu.
Here you must make a choice. Unlike any other steakhouse I've ever heard of, Prhyme offers three kinds of steak. There's grass-fed beef, USDA Prime 21-day wet-aged beef, and, king of the hill, USDA Prime 40-day dry-aged beef, the first dry-aged steaks to be sold in a Tulsa restaurant. Feeding cattle grass results in a leaner meat, so I skipped that. It's the fat marbled throughout the meat that gives a steak its rich unctuous flavor. Fat marbling is one important factor in USDA grades. The coveted Prime grade is so hard to get that only one out of a hundred steaks are USDA Prime. (I always thought the figure was one in fifty, and it used to be, but Justin told me it is now only 1%). Now I had to choose between wet-aged and dry-aged. If meat is aged, this improves the flavor. Wet-aged means the meat is wrapped in plastic, airtight, and left in a cooler. The enzymes and bacteria in the meat break down the proteins, releasing flavor. Dry-aged means that the meat is hung in a cooler, often a whole side of beef, which is aptly known as a primal cut. If this is done, the meat loses water, which means the flavor is more concentrated, and it is also broken down by mold and bacteria from the air as well as the enzymes that affect wet-aged meat. Yes this sounds really gross (it sounds as if the meat is left to rot) but the result is incredibly delicious. It is also incredibly costly. Not only do you have to have storage space for the meat (the dry-aging for Prhyme is done to Justin's specifications in St. Louis) but almost half the meat is lost due to drying or must be cut off due to mold. So you can think of dry-aged meat as a bargain, since it should cost almost double what a wet-aged steak costs. Still, it's priced high. (Is this why in England the flavor of dry-aged beef is called "high"?)
Ah yes, those prices. There's a reason why the online menu has no prices and even the restaurant menu doesn't have a price for dry-aged. Prhyme offers strip steak, filet mignon, and ribeye. The first two are cut from the fabled loin on the back just below the ribs, which if whole is known as T-bone or porterhouse. Except for a $36 grass-fed or wet-aged small filet, all the steaks are over $42. And they are all under one pound. The wet-aged steaks, except for that small filet, run between that and $47. I chose the dry-aged strip. It is $53. This gets you nothing but steak. Sides such as potatoes or mushrooms or brussels sprouts are available for $9 each. I skipped that. I think bread is available free. I wasn't served it and I didn't care. You can also get your choice of various sauces such as Bearnaise, Veal Demi-Glace and Peppercorn Cream. Needless to say I skipped that too. It would be like putting ketchup on top. (Actually the demi-glace mightn't be that bad but it would still detract from the flavor.)
How would you like that done? Answer this question carefully. Don't just say something like Medium-rare. Have the waiter tell you what the term means. (Red center? Pink center?) I went a bit overboard on that and sent my friends at Prhyme an email before I visited. "I like it very rare. There should of course be a thin band, about one-sixth of an inch thick, on the outside, a band which is browned, with Maillard reaction. The interior should basically look raw. But it mustn't be totally raw, shouldn't be bleu. When you heat a steak, the first thing that happens is that the filaments of the muscle protein molecules uncoil and coagulate and this allows the rich flavor and juice to be released. I want that to happen, if the steak is totally raw it will be gel-like, chewy and lack flavor. But it should look raw enough that everyone says 'Brian it's still alive!' when they see it." That Maillard reaction that I mentioned is very important. When meat is browned, the reaction releases over two hundred new chemicals, most of which are poorly understood by science and don't even have names, but all of which contribute to a rich, complex delicious flavor. So you want that on the edges but you still want the interior very red. For this you need a very hot broiler, the hotter the better. Prhyme's broilers are the hottest I've ever heard of, 1600 degrees.
My steak came and it was just so beautiful.
And then I cut into it and …. the horror, the HORROR! … it was slightly overcooked. The textbook rule is that after you take the steak out of the broiler and before you serve it, the core temp, the temperature of the exact center, will rise by 5 degrees. But Prhyme's broilers are so infernally hot that the core temp rises a lot more than that even after it's out of the oven. I think that's what happened. I would have eaten it but Justin intervened. "Not one bite do you eat at Prhyme," he said, "unless it's perfect!" So he took the steak back and threw it in the trash, and cooked me a new one. For that one, he took it out when the core temp was 100. And then it came.
IT WAS PERFECT!!!
I took a bite and reveled in the flavor. I have had a dry-aged steak only once in my life, over a decade ago at Capital Grille in Washington D.C. which in those days was the favored haunt of rich Congressmen and the lobbyists that love them. Over a decade ago, yet the flavor was so rich and distinctive the memories came flooding back. (Yes Proust could have used this.) It is a sumptuous, intensely meaty, luxurious flavor. I just can't describe it. I ate and ate, cutting very small pieces to prolong my pleasure.
As you can see, it's still cooked a bit more than I'd like but it tasted so good I just couldn't complain. I ate until I got to the bone and then I made sure no one was looking, apologized to the waiter, picked up the bone and gnawed it clean. Yes it cost $53. But that bought me a memory I'll have for a lifetime.
Oh and that $12 meal I promised you? As I left I stopped by the bar.
There are a few small tables near the bar, and when available (and it's not every day) you can get a big hamburger with fries for $12. The burger is made from this rich USDA Prime (or maybe grass-fed) beef. But if you miss out on the dry-aged steak you're missing the experience of a lifetime.
Prhyme Steakhouse
111 North Main St (one block south of Brady Tavern in the Brady District)
794-7700
Open daily at 4 PM
http://prhymetulsa.com
Brian Schwartz: Author

Born in NYC, age 0, on my birthday. College in Oxford at age 16. Law School in New Haven, Conn. 6 years travel in Africa and Asia. Haven't done much lately. Still, I'm the only Tulsa member of the little-known Omega Society.  www.theomegasociety.com
I speak enough Chinese to order food not on any English menu. Spanish French Italian too (not fluently but food-ently) My favorite restaurant is Jean-Georges in New York. But those NYC chefs would sell their soul to get the produce available from the farms around Inola.
"A writer writes alone. His words tumble forth from a magical inner void that is mysterious even to himself, and that no one else can enter." And yet, the most important thing to me the writer is YOU. Without you to hear them, my words are worth less than silence.
Tags: Downtown · Fine Dining · Steakhouse