August 29th, 2013 by Jill Meredith – Comments (1)
Since 2002, Palace Café has been a fixture on Cherry Street. Chef /owner James Shrader has been creating fresh food using many products found locally at the Cherry Street Farmers' Market where he has been selling breakfast burritos since 2004.
Intrigued by the thoughtfulness and creativity of the online menu, I recently ate there for lunch.
Besides sandwiches, salads, burgers and the usual lunchtime fare, the menu also includes several items that change daily, including a soup, a chicken dish, pasta and a Midtown Light – a delicious, lighter creation based on the Weight Watchers Points System. Having recently lost a considerable amount of weight, I was especially interested in this thoughtful option that comes in full ($12) or half portions ($8).
On the day I was there, the soup was Green Tomato Tortilla ($5/$7). Usually anxious to try anything spicy, I opted for the milder Summer Gazpacho ($5/$7 and on the regular menu), topped with Scallop Ceviche.  Only slightly spicy, this cold soup was fresh and flavorful and a perfect start to a beautiful meal.
I chose the day's Midtown Light as my entrée. Four succulent, sweet sea scallops were nestled atop a lemony white bean puree and topped with grilled okra. If you think you don't like okra or have only tasted the fried or pickled variety, you're in for a very pleasant surprise. Not the least bit slimy, they were a vibrant green and a little crunchy with a nice char in places. The sweetness of the scallops contrasted so well to the creamy saltiness of the puree. It really was heaven on a plate.
My meal came with a basket of warm, freshly baked honey wheat bread. Thick slices were crusty on the outside and wondrously soft on the inside. It came with an herbed butter. Although subtle, I could taste a hint of fragrant tarragon.  I have been trying to avoid carbs, but I couldn't resist that bread.  Shamelessly, I devoured two slices, slathered with herb butter and loved every glorious carb!
Since I was "good" at lunch, I was more than ready and willing to go all out for dessert. As tempting as other desserts like Strawberry Pavlova ($7)  and Peanut Butter Pie ($7) were, I knew I had to try the Brownie Cake with silky white chocolate ganache, cocoa nib brittle, all garnished with a strawberry fan and whipped cream ($7). What can I say? It was chocolate, chocolate and more chocolate! The brownie cake was moist and decadent. Almost mousse-like, the fluffy ganache was rich, yet creamy and light at the same time. The brittle had the irresistible flavors of chocolate and caramel – a combination that is always welcomed.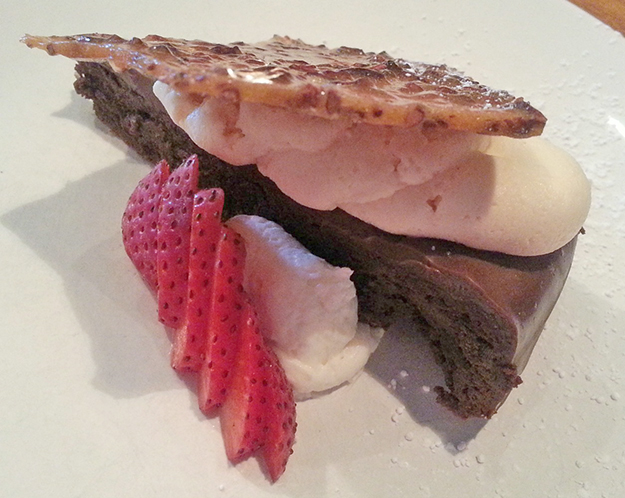 The menu changes twice a year. Soon the new menu will be out with new dishes for the fall and winter months.
Chef Shrader had time to visit that day due to his wonderful kitchen staff.  Chef de Cuisine, Tyler Whitson, keeps things running smoothly while Pastry Chef, Jessica Burge, bakes the bread and makes those wonderful desserts.
My sweet server, Eva, was friendly and knowledgeable of the specials and the menu in general.


Interior photo by Adam Murphy
If you're looking for a nice quite place for a business meeting or a date night, Palace Café is the place to go. You'll be treated like royalty and eat a meal fit for a king (or queen).
Palace Café
http://palacetulsa.com/
1301 E. 15th Street Tulsa, OK 74120
Phone: 918.582.4321
Hours:
Tuesday    11am to 2pm    5pm to 10pm*
Wednesday    11am to 2pm    5pm to 10pm*
Thursday    11am to 2pm    5pm to 10pm*
Friday    11am to 2pm    5pm to 10pm*
Saturday     5pm to 10pm*
Brunch:
Sunday   9am to 2pm
Jill Meredith – Author
Jill is a foodie and freelance writer who lives in Broken Arrow with her husband, their daughter and some furry family members. She loves spending time in the kitchen developing new recipes and reading cookbooks like novels. Besides writing for TulsaFood.com, Jill also writes monthly food related columns for Oklahoma Magazine and several weekly articles for Examiner.com. She loves sharing her knowledge and has even taught cooking classes.
Tags: Cherry street · Fine Dining