September 5th, 2013 by Jill Meredith – Comments (9)
There is something to be said for a restaurant that has stood the test of time. Cafe Olé is one such place. Having seen numerous other restaurants come and go in over 25 years since opening in 1987, it is a fixture on Brookside.
This past January, the former owners sold the restaurant to veteran restaurateurs and business owners, Don and Leslie Jones as well as two other partners.  Having previously owned Savory Chef, the Jones' certainly know quite a bit about what it takes to run a successful business.
Don Jones was also one of the founders of Peppers and was most recently the general manager at Uncle Buck's inside Bass Pro Shop in Broken Arrow.
I have had the pleasure of dining there twice recently; once for dinner and then again for lunch.
Both times, service was smooth and the attentive servers, Kate and Stephanie respectively, were extremely helpful and eager to offer suggestions.
"One of the first things I told the staff was that they had to be servants and have a servant's heart," Don said. This was certainly evident during both visits.
During my visit at lunch, I noticed the menu had changed from my previous visit to incorporate more authentic Southwest flavors like Hatch green chiles and stone ground blue corn tortillas. There are no flour tortillas here.
Don said, "We are slowly making changes. But when we came in, we didn't want to touch the queso or the margaritas at all."
Unlike any other queso I have ever eaten, this cream cheese based dip is super thick and cheesy with just a touch of spicy heat. For those who prefer more traditional queso, they also make some with Oaxaca and other Mexican cheeses and peppers for a taste that may be a bit more familiar to patrons.
Highlights of both visits included wonderfully flavorful tamales, filled with pork and chorizo. I also fell in love with the pork chile relleno, which had a crispy exterior and a beautifully seasoned pork filling. Both are on the new menu. A choice of flavorful black beans or pinto beans and rice came with the relleno.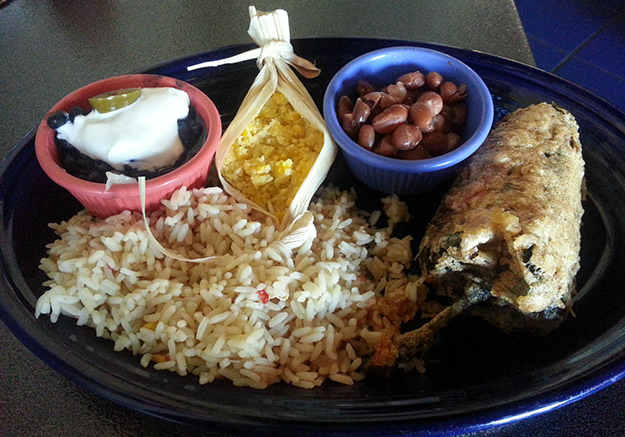 My husband thoroughly enjoyed the Stacked Blue Corn Enchiladas ($12). Almost like Mexican lasagna, it had layers of black beans, green chiles, cheeses, sour cream and a pleasantly spicy Chile Colorado Sauce.
The Marinated Chicken Breast ($9) was succulent and juicy, which is surely a result of the brining and roasting process. It came with a somewhat gritty salad that had an amazing Cilantro-Lime Vinaigrette. The meal also came with a surprisingly sweet corn muffin. I noticed that same sweetness in the corn cake that accompanied the chile relleno.
Don explained that the sweetness was meant to offset some of the spicier dishes. Once I realized that, the sweetness made more sense.
During both visits, I also noticed that most things were seasoned very aggressively, occasionally bordering on too salty. However, taste is so personal and subjective, what is too much to one person, may actually taste under seasoned to someone else.
Don went on to explain that Mexican cooking uses a lot of salt. It's an essential building block for flavor as it is in other cultures as well.
No matter how incredibly full you may think you are, dessert here is a must. Leslie Jones, an accomplished baker, tempts diners with desserts including Key Lime Pie, Brownie Ole, Crème Brulee and more. According to Don, Leslie is currently working on some apple desserts that may be added to the menu in the fall.
If you're more of a breakfast person, be sure to visit Cafe Olé for breakfast /brunch on Saturdays and Sundays for authentic dishes like Huevos Rancheros, a Breakfast Burrito and Olé Hash made with new potatoes, chorizo, poached eggs, Hollandaise sauce and toast. Breakfast and brunch sides include eggs, bacon, sausage, tortillas, Olé Browns, fresh fruit and more.
Cafe Olé
3509 S. Peoria Avenue
Suite 100 (Within the Consortium)
Tulsa, OK 74105
918-745-6699
https://www.facebook.com/cafeolebrookside
Closed Mondays
Tuesday through Thursday, 11am-9pm
Friday, 11am-10pm
Saturday, 9am-10pm
Sunday, 9am-9pm
Breakfast/brunch hours are Saturday 9am-12pm and Sunday 9am-2pm
Jill Meredith – Author
Jill is a foodie and freelance writer who lives in Broken Arrow with her husband, their daughter and some furry family members. She loves spending time in the kitchen developing new recipes and reading cookbooks like novels. Besides writing for TulsaFood.com, Jill also writes monthly food related columns for Oklahoma Magazine and several weekly articles for Examiner.com. She loves sharing her knowledge and has even taught cooking classes.
Tags: Brookside · Mexican Food