Traditional Vietnamese at Mekong River Restaurant
"Ohhh you've ordered something VERY traditional!" Lisa Nguyen, the woman who runs Mekong River restaurant more or less single-handedly, was excited. "Let me show you how to eat it." I was less excited. I figured I knew how to eat things. "First you fill half your spoon with rice." She pointed to a bowl heaped high with sticky jasmine rice. "Then you fill it with this soup. Then you eat it. Then you fill half the spoon with rice again. Then you fill it with that soup. Then you eat some of those pickled vegetables. You go round and round in a circle. It's delicious!" So many thens, but I did what she said and my face lit up. It was indeed delicious. Let me show you what I had.
It's called caramel pork and egg stew ($10) and it is indeed traditional. The stew is simmered for hours, and one Vietnamese writer, recalling how, back in Vietnam, her mother started the stew in the early morning hours when she was still sleeping, wrote: "We'd wake up to this warm pot of slow, simmering goodness and it was a wake up call that filled the house with braised love." I could easily fall in love with that stew. It is indeed made with caramel; sugar and water are heated and stirred until they caramelize (there's that Maillard Reaction again), and then in goes the pork and hard-boiled eggs and coconut milk. I also caught a hint of some spices, star anise perhaps. There's a rich, slightly sweet, complex flavor. As Mrs. Nguyen said, it's a perfect complement to the other soup, at the upper right of the photo, a spicy sour seafood concoction that is also in its own right delicious. The pickled vegetables were just fine too, though they forgot the bean sprouts.
I focused on that marvelous culinary creation and barely paid attention to the other dishes. They were, though, worthy of attention. Here's a Mixed Bun Cha Gio ($8).


That's a popular dish too. I've had it many times before, both here and in New York. It features grilled meat atop cold thin noodles, with sliced egg rolls and leafy greens thrown in the mix. There's a bowl of nuoc cham to the side, made of lemon juice, sugar, water and fish sauce; I usually pour it over everything. I've had better Bun Cha Gios, and the egg rolls here weren't crisp enough, but this was good.
Betty had a pork chop ($7). She was worried it wouldn't be big enough, but as you can see, it is.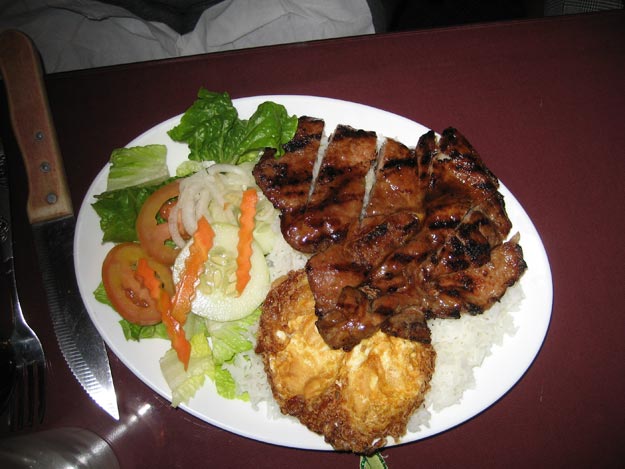 We still had room for dessert. Let no one say that France never gave anything to Vietnam. They left them with great baked goods: breads, Banh Mi sandwiches, and desserts, including the fine Napoleon ($3) that rounded off our meal.
Mekong River
7879 E. 71 St. (in back of a strip mall on the north side, just west of Memorial, near Toys R Us)
252-5611
open 11 AM to 9 PM daily
Brian Schwartz

Born in NYC, age 0, on my birthday. College in Oxford at age 16. Law School in New Haven, Conn. 6 years travel in Africa and Asia. Haven't done much lately. Still, I'm the only Tulsa member of the little-known Omega Society.  www.theomegasociety.com
I speak enough Chinese to order food not on any English menu. Spanish French Italian too (not fluently but food-ently) My favorite restaurant is Jean-Georges in New York. But those NYC chefs would sell their soul to get the produce available from the farms around Inola.
"A writer writes alone. His words tumble forth from a magical inner void that is mysterious even to himself, and that no one else can enter." And yet, the most important thing to me the writer is YOU. Without you to hear them, my words are worth less than silence.